It is true that most of us enjoy the fun and excitement of a trampoline in our backyards especially during the summer months. Rebounding on a trampoline can be a healthy and fun experience if all the safety rules are followed properly.For example ,the one important rule we will talk about : Your trampoline must have trampoline frame pads .
Safety should be top of our concern but many of us are not as concerned as we should be. As a result, there have been an increase in the number of trampoline related accidents that has occurred in the past few years.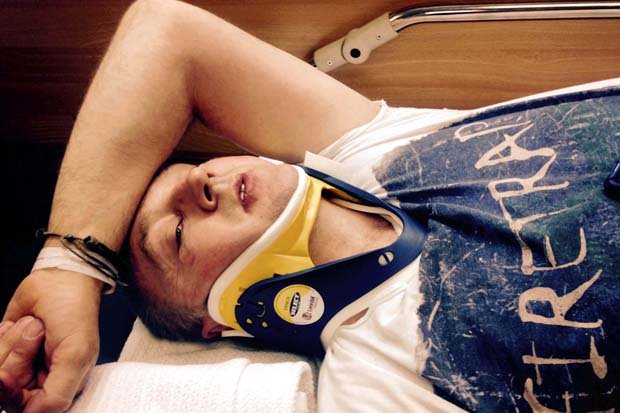 image from here
Majority of injuries may occur in privately owned trampolines as a result of users colliding and knocking one another, improper landing while jumping or doing stunts on the trampoline falling directly off the trampoline or even falling on an exposed trampoline springs or the frame.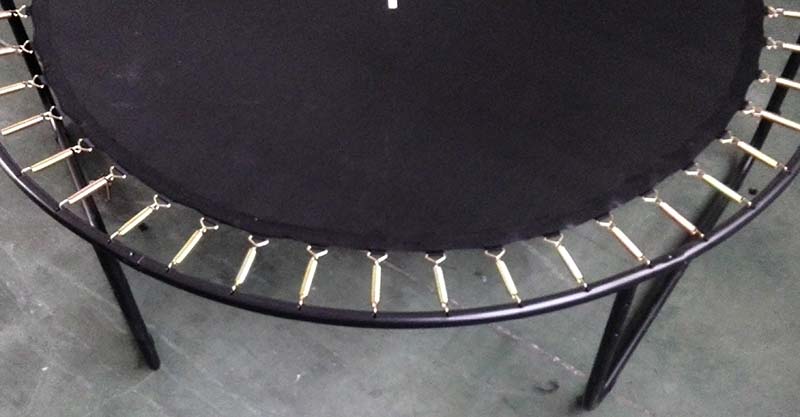 This can result in scratches, bruises and even fractures that may make users to end up in the emergency room. These type of injuries can be reduced by more than 50% if your trampoline has a trampoline frame pad installed in your trampoline.  Also for safety reasons children should only use the trampoline under adult supervision.
check this  trampoline accident : https://youtu.be/DYeFMmFT9Kw and this https://www.youtube.com/watch?v=-vlo2VplLH8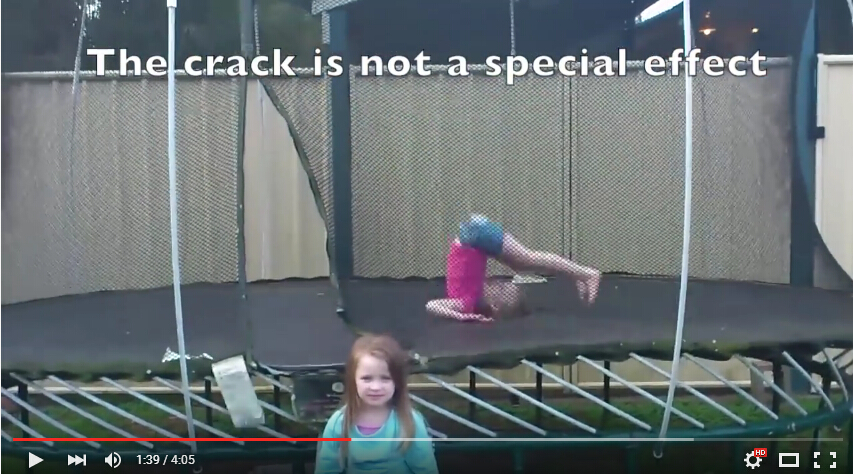 Trampoline frame pads is an essential part of any trampoline. In case you are fairly new into the world of trampoline parts, you should know that the frame foundation of a trampoline is made up of heavy, durable and weather erosion resistant gauge steel tubing, which may lead to injury in case jumpers lose control and fall on it directly.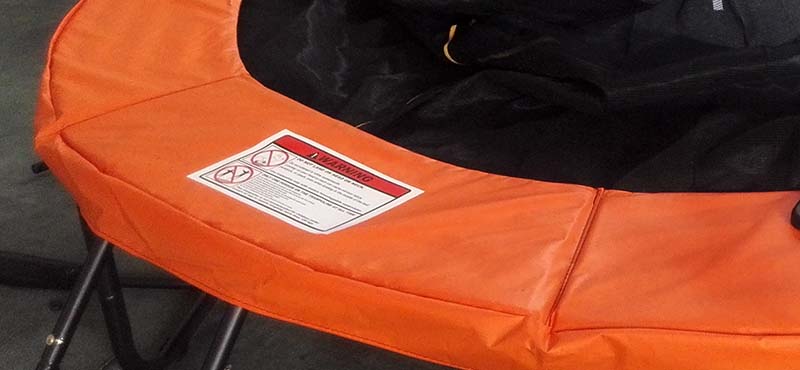 Trampoline pads if installed act as a cushion that will protect body parts from coming into direct contact with this tough metal frame and this reduces the chances of users getting accidents by 50%.
They are also used as a protective covering to enclose the metal frame of the trampoline.  The trampoline frame pads not only cover the metal frame but also the exposed springs and hooks.
They are therefore very instrumental in providing the needed safety and reducing the severity of impact injuries for you and your family while the trampoline is in use.
Purchasing of the frame pads should therefore be taken very seriously.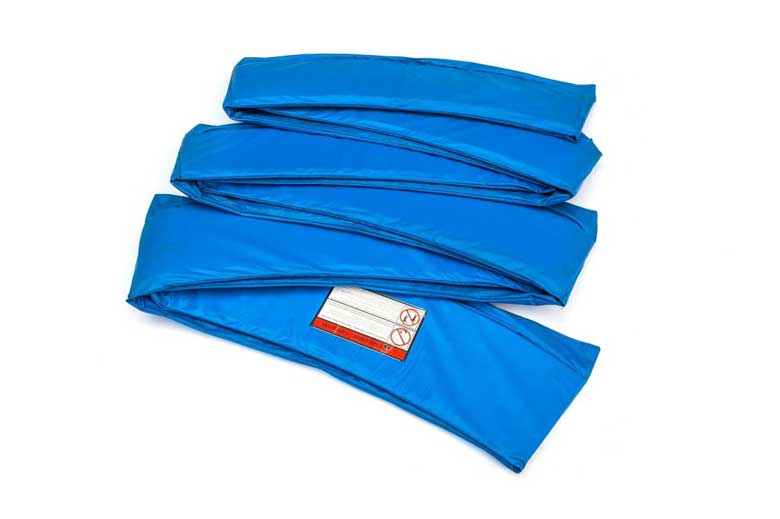 Types of trampoline frame pads
Trampoline frame pads come in various shapes, sizes and colors as per users demand. The trampoline pad shapes can be round, rectangular, square or octagonal. Trampoline frame pads also come in different grades.
Some are made to fit budgets while some emphasize on quality over price. Good quality trampoline frame pads are generally made of thicker and stronger Polyvinyl chloride (PVC), while budget pads are made of cheaper Polyethylene (PE).
Those covered with PVC or polyester covering also protect it from UV rays. Frame pads covered with PVC material don't crack or split in the sun and are designed to last a number of years longer through harsher climatic conditions. Those covered with PE material are prone to early deterioration since the PE material is not UV resistant.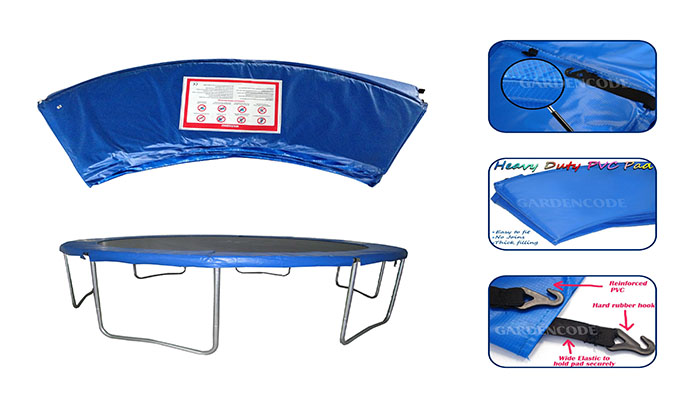 Trampoline pads of good quality are made of high density, closed -cell foam which does not absorb water or loose shape. This makes them to be shock absorbent and reduce the chances of a trampoline users getting an injury by more than 50% when they fall.
Bouncing off a trampoline can result into a fall of 3-4 meters (10-13 ft.) from the peak of a bounce to the ground or fall into the suspension springs and frames. The frame pad will enable the user to land on a softer surface when they lose control.
Apart from trampoline frame pads, floor pads are also available. They are used to reduce chances of an injury in case a person falls off the trampoline. Trampoline frame pads also contain a set of traps to attach the trampoline to hold it in place while jumping and during high winds.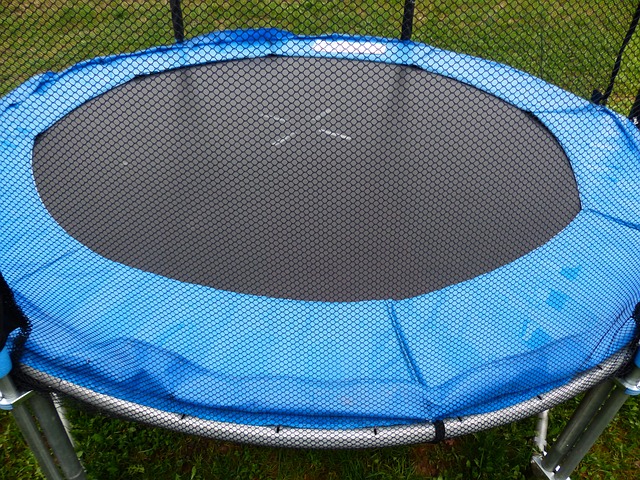 Trampoline frame pads therefore should be one of the main components of a trampoline. It is very vital in classifying a trampoline as safe. The frame pads not only provide a safe jumping experience by protecting jumpers from getting bruised by frames or pinched by springs, the pad also extends the lifespan of the trampoline springs by protecting them from harsh weather.
Replacement of trampoline frame pads
Trampoline frame pads may wear out over the years and therefore need replacement pads. So when you go shopping for a replacement pad don't just go for price alone, also look for safety features that will enable you and your family to be protected from any harm for a longer period of time.
Also, you have to know the exact measurements of the old one and the number of grommets of tabs that are used to attach it to a frame.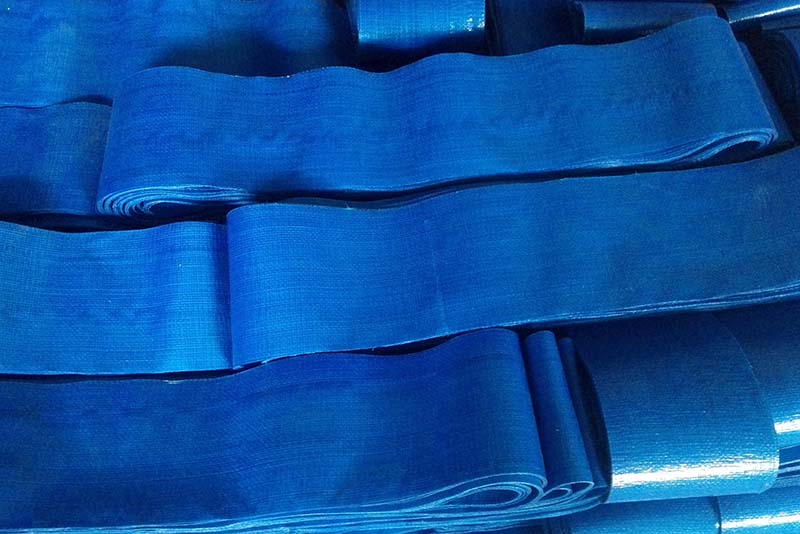 Maintenance
To make your trampoline pad last longer, make sure that you purchase a trampoline cover which protect the trampoline from harmful weather conditions during the period that it is not I use.
Also, you should store them away during winter climate, frost plays a large part in its deterioration, and the cold air crystallizes the memory foam and destroys the cells, which in turn creates soft lifeless pads.
Also, strong cleaning chemicals should be avoided and the frame pads should not be tied too tight to avoid tearing. Pets should also be kept away from the pads because they may tear the pads.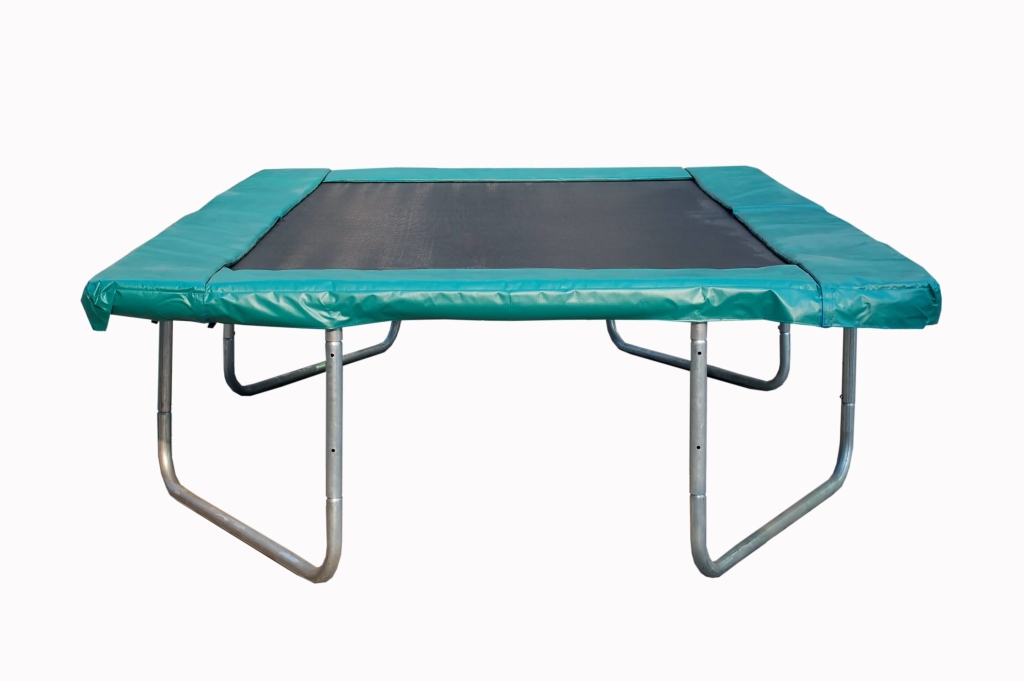 Conclusion
Any trampoline that does not have a frame pad installed in it should be considered a safety hazard. It is therefore a very important trampoline accessory that must be installed to make the trampoline safer for everybody involved.
The frame pad will enable you and your family to use the trampoline for many years without risk of injury. And when your trampoline frame pad is worn out, ensure that you replace it with another one of the same size or larger and of good quality.
Also to reduce accident rates only one person should be allowed to jump at a time in order to avoid collisions and people being in an unexpected direction since most common injuries occur when there are multiple users jumping on the trampoline at the same time.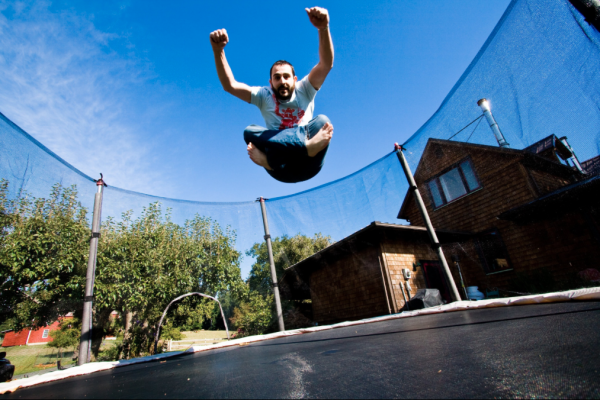 Users may bounce into one another and become injured. , suffer broken bones, as a result of landing strangely after knocking into another. Also, inspect all thee trampoline parts before every use.
At Domijump, your family's safety is out top most priority, we therefore manufacture and supply high quality , weather and UV resistant trampoline frame pads to ensure your trampoline is safe during use.