Rectangle Trampoline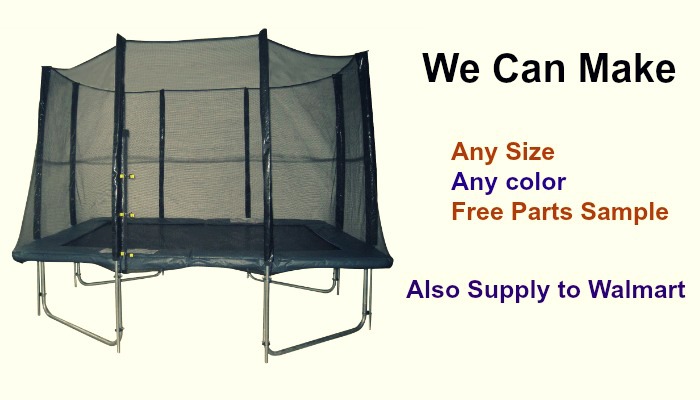 Description
The Domijump rectangular trampolines are designed to achieve "the very best bounce". They are constructed with quality springs that can work at different rates. They have been optimized for quick response, thus, a more powerful lift. They are a perfect choice for both semi-professionals and professional gymnasts.
These trampolines are slightly expensive but, if the price is within your budget, then go for it.
Domijump has a variety of trampolines in terms of shape and size. The rectangular trampolines are the most powerful and popular designs. There are 14' and 15' sizes that are the most popular ones.
The framing will usually be galvanized steel as well as 4 corner legs for maximum strength and stability. The mat is typically be made from polypropylene – it is a strong material to help hold various weights. It is possible for the buyer to dictate the design of the trampoline (the custom-made designs). There also come in a variety of prices based on various aspects.
Advantages 
20μm Zinc Coated
0.35mm PVC with UV Stabilizer TINUVIN783 FB
Weatherproof,Rain permeable and UV resistant for long jump fun
TUV approved PE, UV resistant, tear-proof 140g/m² net structure
More Details
Rectangle trampoline details
Specs
Item No.:
GCTR1007-SQ
Description:
10FTX7FT TRAMPOLINE
Available Size: 
300CMX210CM
Available Height:
76cm
Available Total Height:
246cm
Frame Tube
Frame Tube Material:
50.8mm*2.0mm
Vertical Leg Tube:
42mm*1.5mm
"W" Shape Tube:
42mm*1.5mm
Available Quantity of Legs:
4 legs
Material:
galvanized 120g
Tube standard:
pass 72h salf-spary testing
Mats
Material:
PP
Colour:
black
Printing:
customer designed logo
mat stitching:
8 row stiching
mat diameter:
triangle hook:
68pcs
Springs
Material:
color zinc galvanized
Size:
24*L178*3.2*40N
Quantity:
68pcs
Spring Tool:
included
Pads
Top:
PVC,320g,6P and UV 500h passed
Bottom:
PE
Foam:
EPE foam,thickness 18mm
Width:
30cm
Fixing:
elastic band
Enclosure
net style:
exterior net
net cloth material:
heavy duty PE net(95g)
 
UV 500h passed
Quantity of Pole:
8 poles
Pole Style:
whole pole
Fixed:
quick clamp
tube diameter/thickness:
28*1.2mm(upper pole)
 
28*1.2mm(lower pole)
height:
170cm
entry:
zipper
Packing
Carton Size:
157*43*22cm
 
97*63*12cm
 
130*39*19cm
 
Loading QTY:
370sets/40HQ