Trampoline frame pads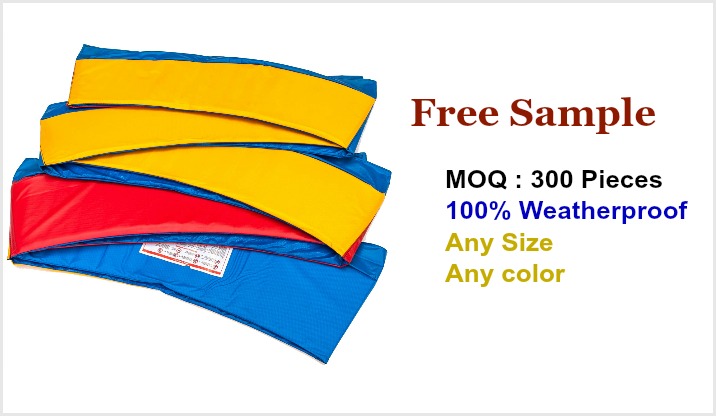 Description
Domijump trampoline safety pads also called trampoline spring covers, they protect the jumper from falling on the steel frame or gettering huit from the trampoline springs,it contains the best shock absorbent,high density,closed cell foam that will not absort water.they are constructed of 310 g PVC on top and 310 g PE on the bottom , and also 1 ' foam thickness EPE each squre meter.
Domijump trampoline pads ensure you our best quality and size fits from 5 ft to 16 ft round or rectangle trampolines.Pads weight from 1.5 kg to 4.6 kg over the frame tapering off towards the center .and with a width from 28cm to 34 cm .
For trampoline jumping pads color,we have our standard color like blue ,green,pink, red , yellow .and of course we can custom the color for your detailed request .So now click the below red button to request a free sample.
Features:
100% weatherproof, UV-Resistant
Material:PVC+EPE+PE
Fit most Brand's trampoline
Colors:Blue, green, pink, red,yellow or several colors in one
310g/m2 PVC(500D) cloth + 130g/m2 PE cloth + 18mm EPE foam
More Details
Technical Data Sheet of Trampoline Frame Pads
PS: We have any size of the trampoline frame pads,because there is not enough space to show all ,if you need any other sizes,please contact us at lisa@domijump.com
Pads
Top:
PVC,310g,6P and UV 500h passed
Bottom:
PE
Foam:
EPE foam,thickness 18mm
Width:
28cm
28cm
31cm
31cm
31cm
Fixing:
elastic band,6 pcs
elastic band,8 pcs
elastic band,10 pcs
elastic band,12 pcs
elastic band,12 pcs