A trampoline is made of different components assembled together.
The assembly is done by:
1.Tightening sections with screws and bolts
2.Inserting some sections to other components
At any given instance, all the trampoline enclosure parts should be inspected to ensure that none ineffective.
For example, if the trampoline spring fails, then one may not have a good trampolining experience.
On the other hand, if the trampoline net is faulty, then there're chances that trampoline users will get injured.
But, how do you ensure that the trampoline is safe at all times?
You need to understand the various parts of a trampoline.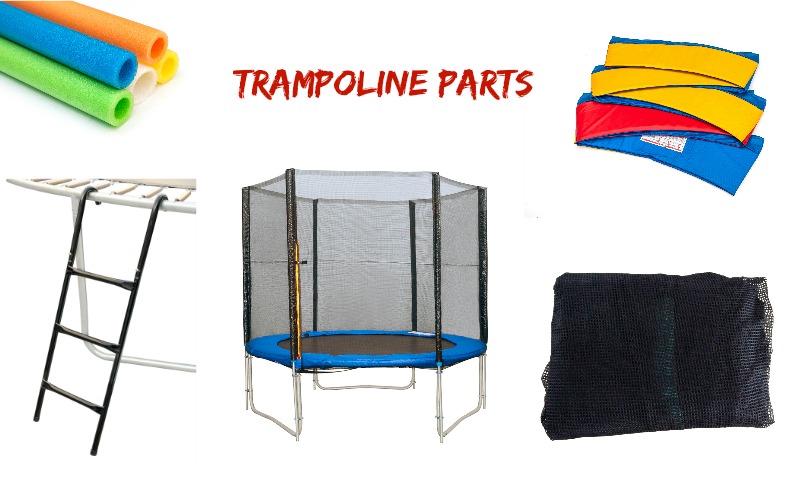 11 Main Trampoline Enclosure Parts 
These parts are designed to enhance the performance and reliability of the trampolines.Today I am going to tell you the 11 main trampoline enclosure parts you need to know.
Keep reading :
1.Trampoline Frame Pads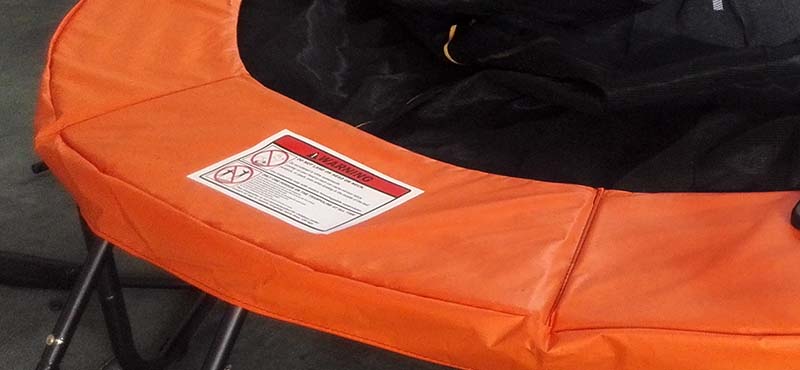 These trampoline accessories are designed specifically to cover the springs.
It is a safety measure, which ensures the trampoline users do not fall on the spaces between the springs.
Moreover, the pads will also protect them from stepping or falling on the springs.
As the springs extend and contract, they are likely to pinch the user's skin.
It is a safety measure that all springs must possess.
Normally, they are installed to cover the entire frames of the trampoline.
They have connectors that are used to secure them on these frames.
The most common pads are manufactured from an expanded polyethylene (EPE), PE and a high tenacity polyvinyl chloride (PVC).
The pads are both UV and water resistant. This makes them a perfect choice for the outdoor trampolines.
They are dimensionally stable and absorb shock thus, the trampoline user will not get injured while the pad will also maintain its structural integrity.
The trampoline pads are designed for a wide range of trampoline designs and sizes.
That is, these pads come in different sizes that may vary between 5ft and 16ft.
This is for both round and rectangular trampolines.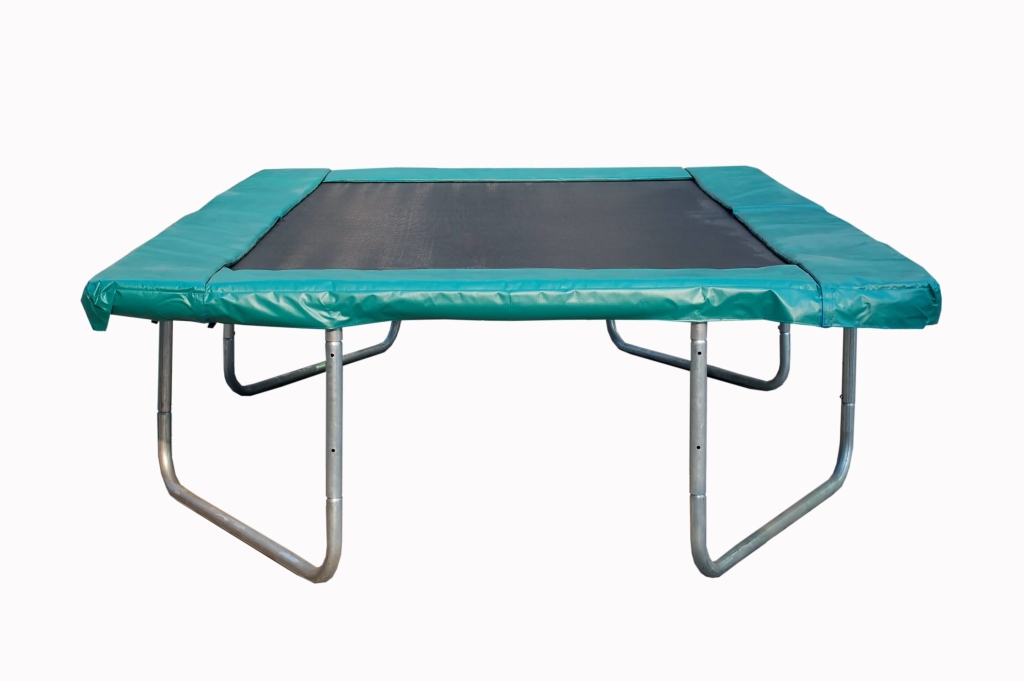 As you can see from the image above, they are available in a wide range of colors such as blue, pink, yellow, red and green. The customized shapes are also available.
2.The Trampoline Mats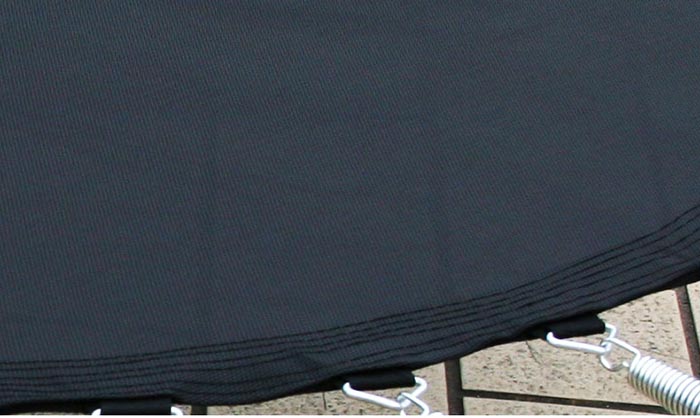 This is a big piece of material that is cut into size depending on the shape or design of the trampoline.
That is, they can be round or rectangular in shape.
Apparently, the trampoline manufacturing companies have adopted the polyethylene as the primary material that can be used to make these mats.
This is due to the wide range of properties such as high strength, smooth surface, superior UV resistance, waterproof and durability.
There are other companies that have adopted other synthetic materials such as nylon.
It is advisable to scrutinize these materials to ensure that, you get one that can guarantee a long lifespan.
This is even critical when it comes to the outdoor trampolines that are exposed to harsh radiations from the sun.
As you can see in the figure below, the edge of the trampoline mat must be reinforced before incorporating the rings.
It is these rings that the trampoline springs will be attached.
Normally, as people jump on the trampoline, a lot of force exerted at the center of the trampoline and it is transmitted to the edge of the mat.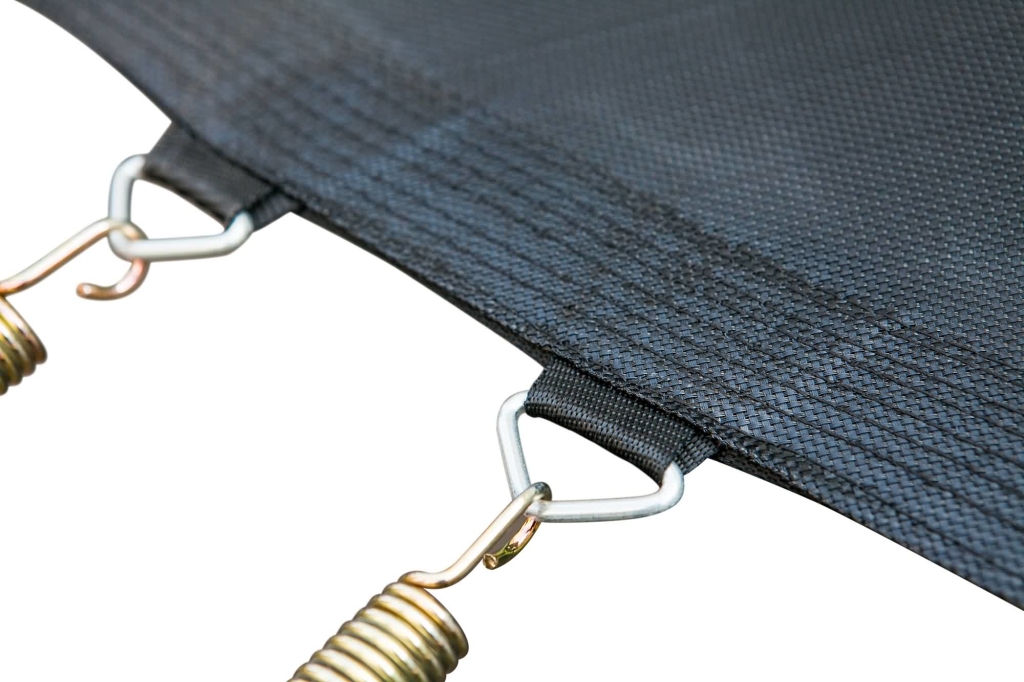 Unless it is strong enough, it may not be able to accommodate the weight of the trampoline users.
They are available in a wide range of dimensions such as 6ft to 16ft with a diameter ranging between 1403mm to 4145mm.
Normally, a single mat may have between 36 pieces and 96 pieces of rings.
The number of rings is based on quality and safety assessments.
The rings must be distributed equally along the edge of the trampoline mat since this is the only way the mat can balance.
Black is the most common color however, for people who like to customize their products, they can always opt to draw logos or designs of their choice. Alternatively, they can always opt for different colors.
3.The Trampoline Safety Nets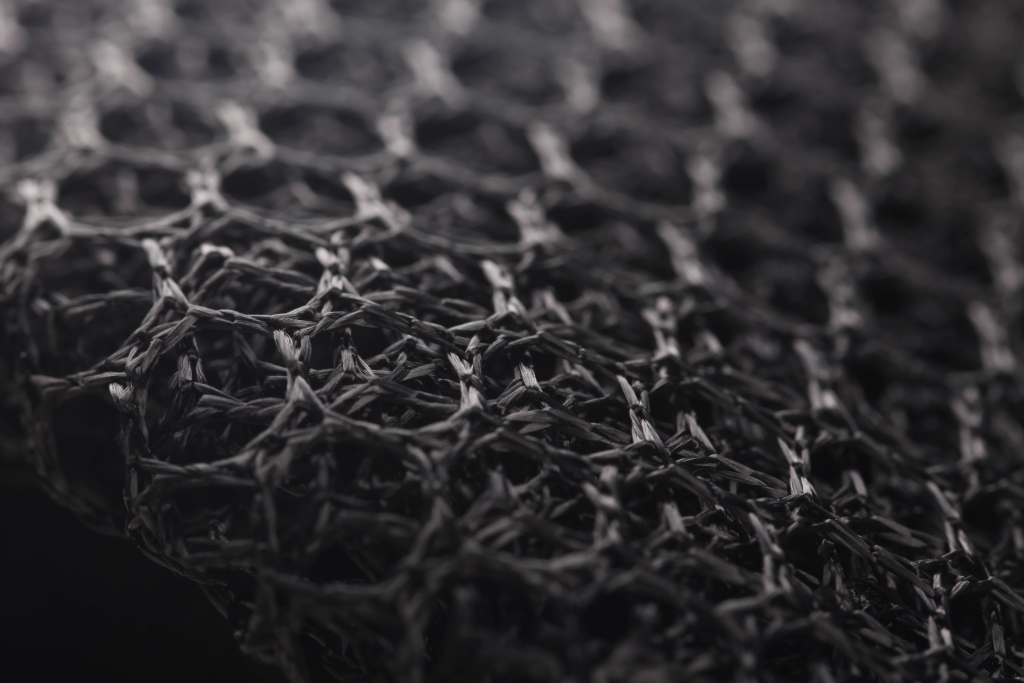 This is an important accessory just like the trampoline safety pads.
Again, the manufacturers have to scrutinize a number of material when designing these trampoline enclosure parts.
The degree of safety will be determined by the nature of the material.
In most cases, there are only two options available and these include the PE and polyester materials.
To get more information about these accessories, you can click: A guide to trampoline safety nets material selection process.
As much as most people assume that these nets are only installed for decorative purposes, this is not always the case.
The nets were mainly developed for safety purposes. Here's how the trampoline nest can save your children's life.
The aesthetic value will be a secondary consideration.
The figures above shows the trampolines before the installation and after installation on a round trampoline.
Don't assume that any trampoline net in the market can meet the recommended service requirements.
You must go for the trampoline replacement nets that are manufactured from PE and they should be tear proof, waterproof and UV-resistant.
Such nets will ensure that the users do not fall off the trampoline.
They are also lightweight thus, they do not have unnecessary weight on the trampoline.
It's only those nets that meet the TUV GS, BSCI and CE requirements that are recommended for both rectangular and round trampolines.
4.Trampoline ladders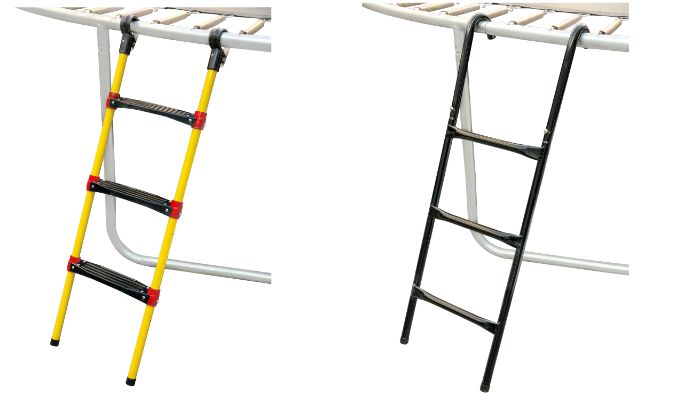 A number of ladders are manufactured from high carbon steel. This is due to the superior properties of this material.
It is basically strong and tough. However, the trampoline parts manufacturing companies have been considering other materials such as aluminum and galvanized steel tubes with zinc.
They are light and inert. Thus, they may not require additional surface treatments that can only increase the production cost of these trampoline enclosure parts.
You may also read: A guide to trampoline ladder selection process.
They are available in both standard designs and custom designs and are made for trampolines that are above 10ft.
Quite trampoline ladders weigh about 2.4kg, with a height of about 96cm and 32cm wide.
For more information about trampoline ladder specifications, you can click: The Domijump trampoline ladder data sheet.
In most cases, the top section that is placed on trampoline frame is either curved or come with a locking mechanism.
This ensures that the ladder doesn't fall when in use. They have a rubber coat or a rough textured surface to prevent slipping. These are important safety measures.
5.The Trampoline Spring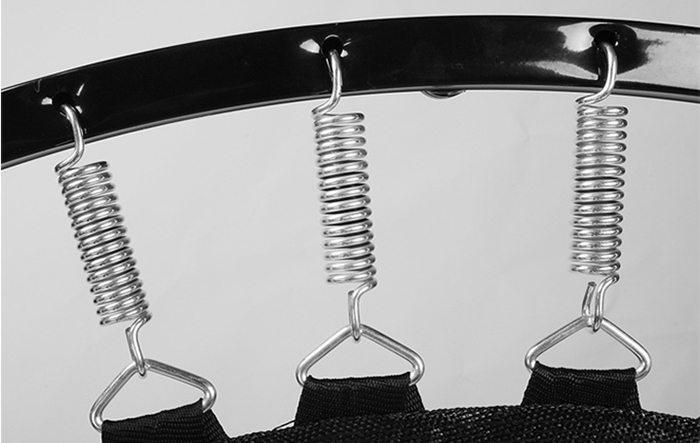 This is an important outdoor trampoline part.
A spring is a metal/wire that has been coiled. They come in different sizes and configurations depending on the shape and type of trampoline.
In most cases, they are considered as universal trampoline accessories. This is because they are compatible with most trampoline products.
It is the springs that link the trampoline steel frame to the mat via the "D-rings".
The principle of operation and the spring quality assessment process solely depends on the ability of the spring to obey the Hooke's Law.
Basically, this law can be summarized as the principle of elasticity. When choosing this trampoline parts, it is important to consider the spring constant, normally denoted by letter k.
This will depend on the type of materials, diameter of the wire and the number of coils.
Normally, your trampoline spring manufacturer will specify all these vital aspects on the trampoline spring's data sheet.
The main purpose of these outdoor trampoline accessories is to separate the bounce impact and ease pressure on the users' knees.
They are the custom made and universal springs.
To ensure optimal performance, the trampoline springs are manufactured from galvanized steel that makes its resistant most environmental conditions.
6.The Trampoline Basketball Hoop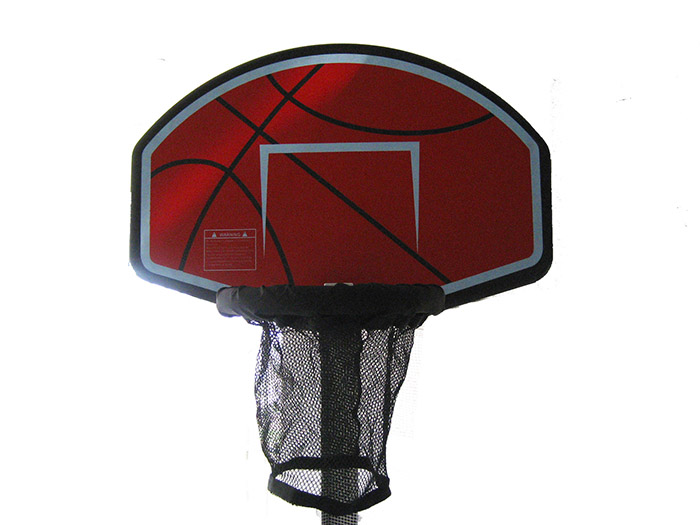 This is yet, another trampoline enclosure part that you may wish to incorporate in your outdoor trampoline.
It has revolutionized the use trampolines as people not only enjoy exercising on trampolines but also, perfecting on their basketball skills.
It is a perfect choice for basketball enthusiasts – people who enjoy dunking like basketball experts.
Like the ordinary basketball hoops, these trampoline accessories have rings/rims and HDPE board.
The Domijump trampoline basketball hoops are actually the first universal accessories to be introduced in the market.
Companies that were in this industry were mainly focusing on products that are specifically designed for their trampolines.
These basketball hoops can be adjusted to fit all trampolines.
The rim is made of a zinc coated steel making it resistant to a number of environmental conditions.
It is easy to install and it can be attached near the trampoline poles and safety nets.
This basically eliminates using the traditional basketball hoops. Here's the Domijump basketball hoop specifications.
7.The Trampoline Shoe Bag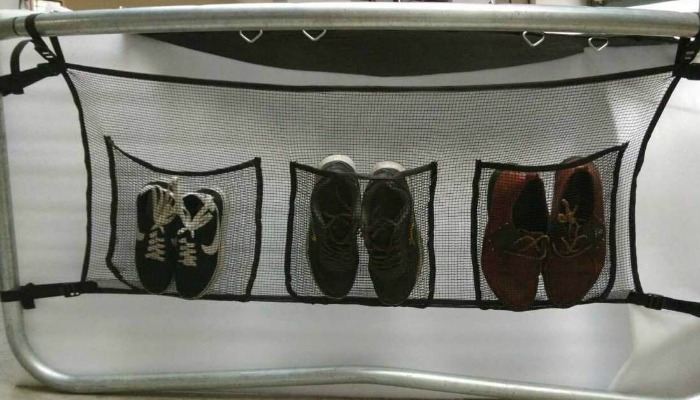 This is another outdoor trampoline part. An outdoor trampoline is not complete without the right trampoline shoe bag.
This trampoline accessory is manufactured from a durable reinforced mesh and it has four straps.
It acts as a perfect storage facility for shoes, basketballs and other personal items such as phones or drinking water.
There's no reason as to why you should let your vital items or kid's shoes scatter all over the trampoline court.
It is even tormenting when your personal items get blown away by wind.
They are simple to install and maintain.
This is one item that you need to incorporate alongside other trampoline enclosure parts listed above.
8.The Trampoline Solar Light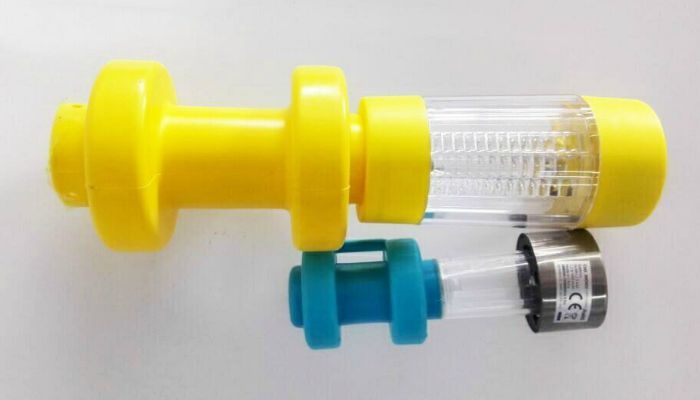 Lighting systems is an important accessory that most people do ignore.
This is a vital trampoline accessory, especially for people who use the trampolines at night or in the evening.
These lights have solar systems that recharge the battery so that they can be used when the sunlight is insufficient.
They are easy to install, cost effective, solar powered and the light shade can transition from one color to another.
The Domijump LED flashlights for trampolines are also available.
They can be used alongside the solar flashlights.
And do not radiate much heat that can make you uncomfortable when using the trampolines for workouts.
9.The Trampoline Foam Sleeves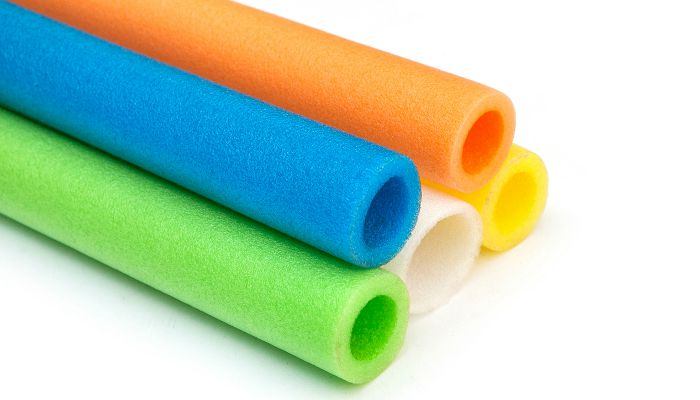 This is an important trampoline enclosure that you need to install to guarantee the safety of all trampoline users.
They are designed to cushion the impact whenever the trampoline users happen to bump on the trampoline steel frames.
These trampoline foams sleeves are mainly manufactured from the expanded polyethylene (EPE).
This is due to the following key reasons:
1.They are dimensionally stable thus, do not deform easily. This implies that they can guarantee optimal performance after a very long period of time.
2.They are inert; they are neither effected by environmental conditions nor emit toxic gases
3.The products have a lightweight thus, they do not add unnecessary weight on the trampolines.
4.They possess one of the best energy absorption characteristics and excellent recoverability properties. This implies that they have a high degree of resiliency and flexibility.
In case you have kids, don't forget to install the trampoline foam sleeves. Your kids will always be protected from unnecessary injuries when they happen to hit the trampoline frame.
10.The Trampoline Plastic Parts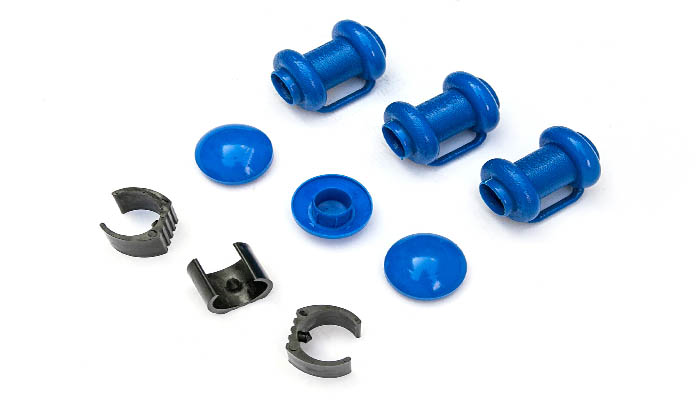 A trampoline is manufactured from a wide range of materials such as metals, fibers and plastics.
The choice of a particular material will depend on the performance characteristics and safety requirements.
There are a number of trampoline plastic parts. Using different materials reduces the unnecessary production costs and weight.
The net pole plastic cap is a common accessory that has been adopted by a number of trampoline users.
The choice of this accessory will depend on the size of the trampoline pole.
These plastics parts are available in a wide range of colors to compliment the prevailing theme of the trampolines. 
11.The Trampoline Spring Tools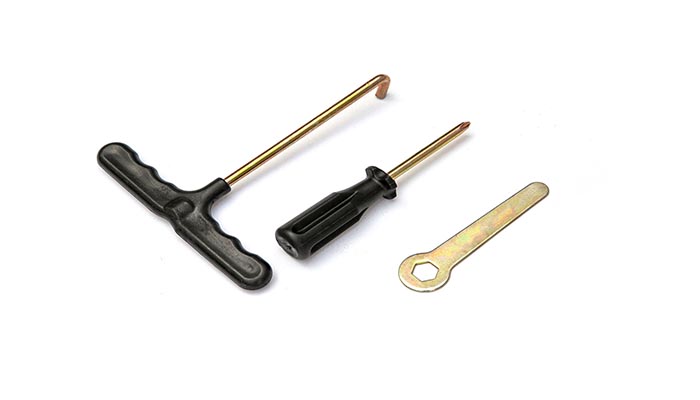 Although these accessories are not classified as the trampoline enclosure parts, they are vital tools when installing the trampoline springs.
Springs are not only delicate, but they can cause injuries in case one doesn't use the right tool.
These are some of the tools you may requires while installing the trampoline springs.
They are simple and easy to use. As a general rule, you must only use the tool for that specific task that it was designed for.
Conclusion
There are a wide range of trampoline enclosure parts and accessories.
Choosing the right accessory is important in case you want to realize an optimal performance from your trampoline.
The fact that a trampoline part or accessory is termed universal, does not imply that it will automatically fit your trampoline.
To be sure that you've actually purchased the right equipment, always be sure to consult the trampoline supplier or manufacturer.