The basketball hoops on outdoor trampolines  have become the most adored trampoline accessories. They are a perfect choice for basketball-loving kids.
Basketball trampoline hoops have been designed to add a new dimension of fun to the trampolines and make it a perfect way to exercise outdoors.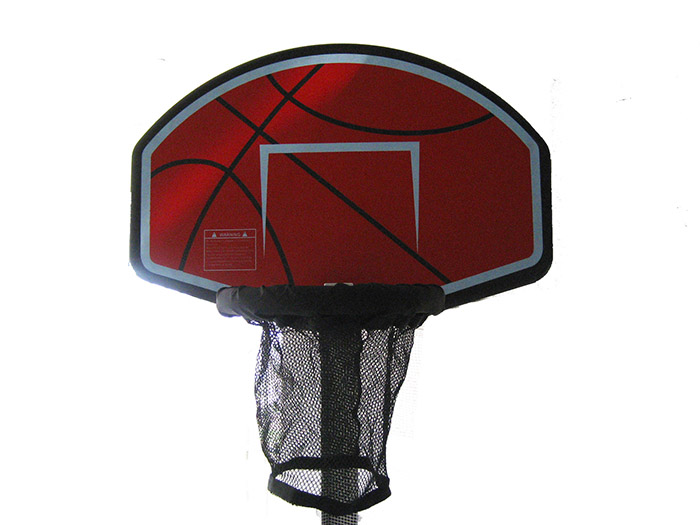 Features of basketball hoops for trampolines
These trampoline accessories resemble the ordinary basketball hoops. The only difference is that, they are mounted on the trampolines.
They share a number of features more so, the designs and structure.
Other features that are unique to this product include:
 They have been designed to flex on contact. Thus, the hoop can absorb impact and this prevents injuries.

 The hoops are covered with foam for extra protection. This makes it safe for all users.

 It has a backboard that is indestructible, making the ball to rebound effortlessly

Quite a number of these accessories are designed for mini-basketball

They are preassembled, making it easy to install and uninstall
Advantages of Trampoline Basketball Hoops
1. Improving balance and body coordination
The fact that kids have to focus on two things at the same time:  improve balance and body coordination.
That is, as the kids use trampolines with these hoops, they have to jump while dunking the ball in the hoop.
Basically, this will improve the eye, head, hands and leg coordination.
This makes it an important exercise for a child's development and growth.
2. The kids will have a reason to exercise
Kids who are basketball enthusiasts will have a reason to venture outdoors and maximize their time on the outdoor trampoline.
Using the trampoline basketball hoops is so interesting to an extent that kids will hardly know that they're doing exercise.
This trampoline accessory is designed to make kids fall into the trap of wanting to use the trampoline with a basketball hoop. This will make them stay fit at all times.
3. Perfecting on basketball skills
When your kids happen to train consistently, they'll be perfect on their dunking skills.
In basketball, this is a key skill that cannot be mastered easily without consistent training.
Basically, this will give your kids an obvious advantage over the other players.
This makes the outdoor trampoline with basketball hoop a perfect choice for kids that are involved in competitive basketball leagues.
4. They increase trampoline fun
Don't be astonished, as long as you have this equipment on your yard, expect to see a number of children visit your home from the neighborhood.
This is because these trampolines will form the center of the neighborhood fun.
This is crucial, especially when it comes to the social growth of your kids.
5. They are safe
This is quite evident from the features of a trampoline basketball hoop listed above.
In most cases, the companies that manufacture this product does all that it takes to ensure that the product is safe for all users.
The end users are cautioned to ensure that the product has been installed as per the manufacturer's instructions.
Conclusion
In summary, you can transform your outdoor trampoline court or backyard by incorporating a new activity on the trampoline.
This makes the basketball hoop an important accessory.
It will bring in an activity that everyone in the family can enjoy.
It is not designed specifically for the basketball enthusiast.
Dunking the ball like a pro is really interesting. But, parents must also be careful when buying these products.
Compatibility is a crucial aspect that one has to consider. This will eliminate accidents. They have to assess all sections of the trampoline more,especially  the trampoline nets.