The springs are the most vital part of a trampoline as they handle the bouncing effect on the trampoline.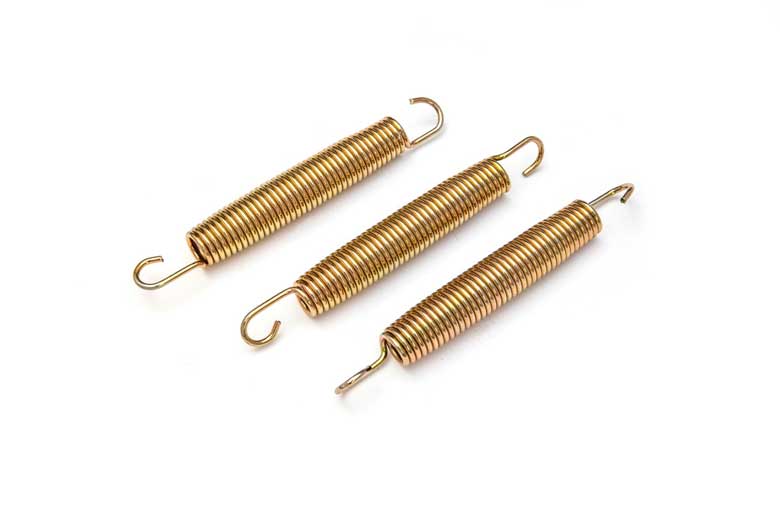 Together with the mat, the trampoline springs are made to stretch out/ simply elastic, so as to provide the required tension for a user to bounce up and down the equipment.
For this reason, it is important that the springs are of good quality, in good shape and well maintained to avoid any accidents, problems with the law or extreme costs associated with defective springs.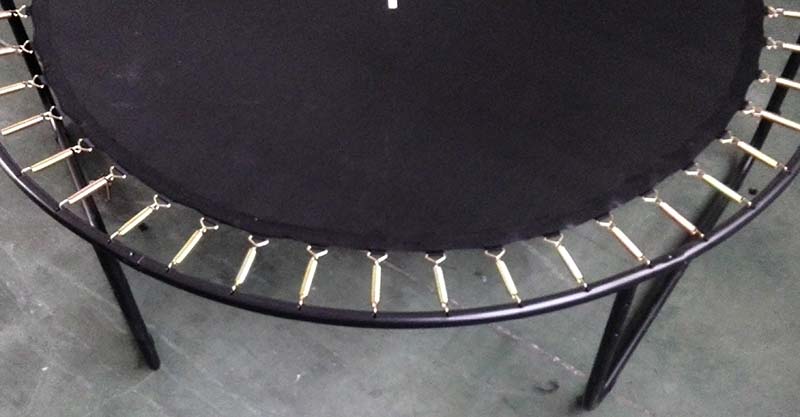 Damaged springs are the last thing you should want to have as a trampoline owner. You never know who will be bouncing on the trampoline next. With damaged trampoline Springs, every time you or someone makes a bounce the mat tends to be pulled more on one side causing it to wear and tear.
The more you bounce on it the more the tearing and before you know it, you will be faced with the challenge of getting a new trampoline or the excessive costs of parts replacements. Also, damaged springs cause the perimeter hardware to loosen up and production of incorrect tension by the trampoline component.
Identifying the damaged trampoline springs
This the first step in any replacement spring for trampoline safety pads. So, how then do you know or identify damaged springs on your trampoline?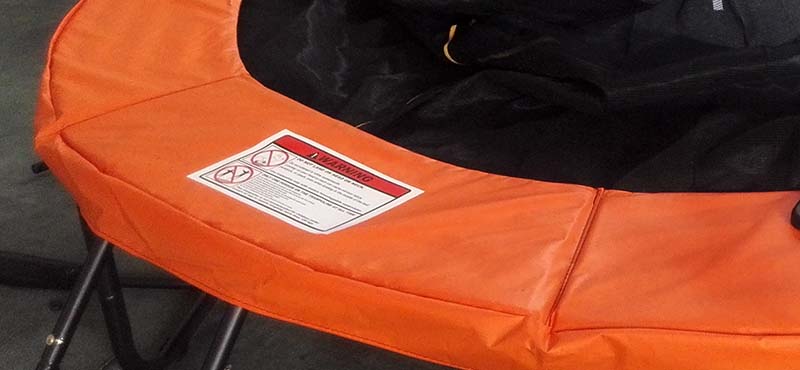 It is easy, compare the tension produced by each of the springs. You can do this by clenching the end of the coil and shaking it. If you notice any variance, then it means that some are defective.
Those springs that seem to be loose are damaged and should be replaced immediately. Again, if you realize that the spring does not recoil back to normal shape when removed, the chances are that the springs are spoilt. A denoted spring hook is also a call for a spring replacement.
This is a simple test that you can conduct. You don't need to hire a technician to carry out this test.
However, to ensure that your safety and that of other users is guaranteed, maintain a routine check on the trampoline from day one just to ensure that it is in good condition. You can do this personally or make use of an expert/make use of a person with trampoline experience.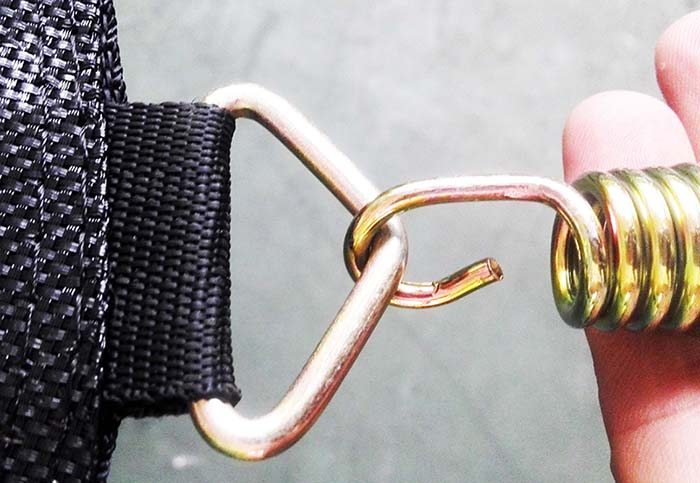 What next after identifying faulty spring?
When a damaged spring is identified, quick action should be taken to replace it. But before that, you need to ensure that the correct replacement springs are purchased and proper fixing is done. Whether you are doing all these personally or hiring an expert, ensure that it is done correctly.
First of all, you need to know the length of the trampoline springs; you can determine the spring length by removing the springs from the frame and measuring them from the both ends (While relaxed).
Do this on more than one spring to ensure that accurate measurement is taken, or simply consider the springs that are in good condition. In a case where you are not sure about the measurements, make no risk at all; call an expert or supplier to help verify the length of the springs before making any purchase move.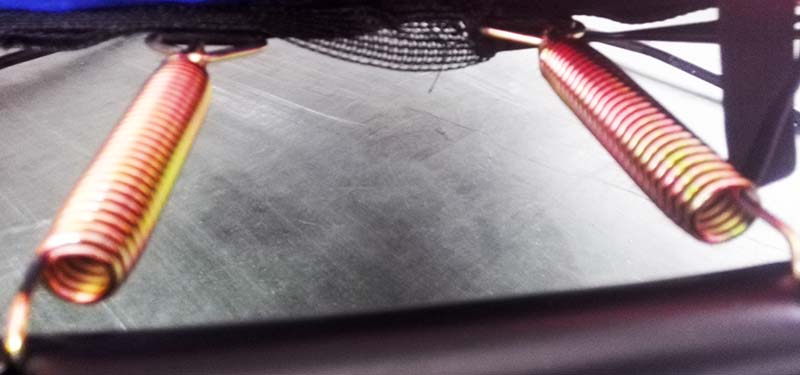 There are many ways to get replacement springs for trampoline pads.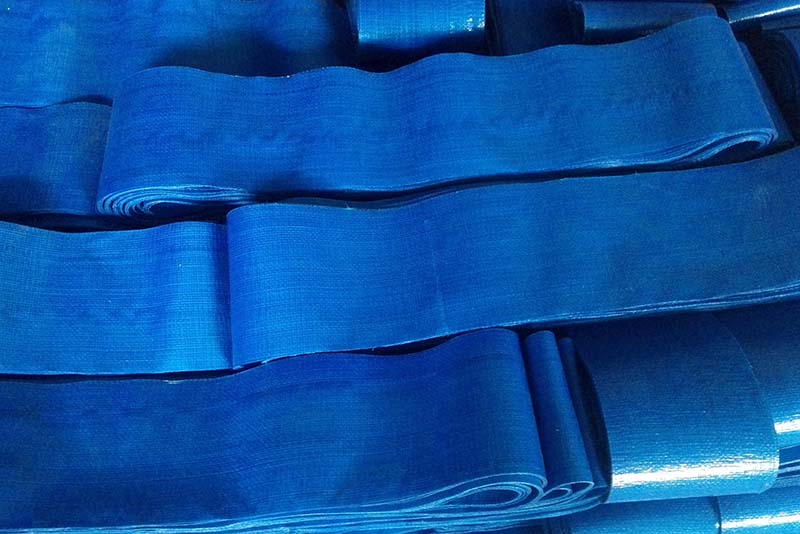 With the accurate length measurements for your trampoline springs, you can visit a spare part store to get the springs. You can also call in your trampoline supplier to supply you with the replacements springs which is easier as they would be in a position to bring the most appropriate springs given that they have details of the trampoline.
Another option is to check through online stores that in case the company has an online store. This will offer a wide variety of options with information based on brand, dimension, quality, materials and other features.
Additionally, a more assuring option is to get the springs directly from the manufacturer. Whichever way you chose, the most important thing is to ensure you get the correct springs for your trampoline.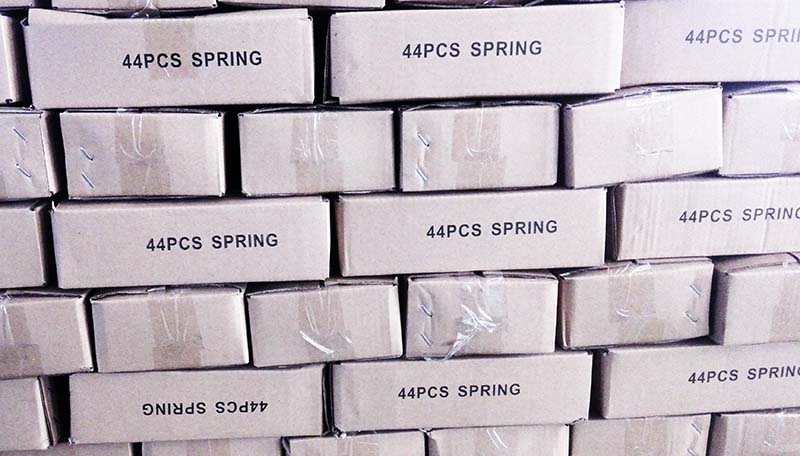 Fixing the trampoline springs
Fixing the springs shouldn't be too much of a headache. There are options to consider; one you can do the fixing personally, that is if you trust you handy-man skills. If you're unaware or unsure on how to go about it; look for directions from the trampoline repair kit or find them online, there are many articles that provide related information.
Otherwise, seek the help of an expert to help you conduct the replacement process appropriately and successfully.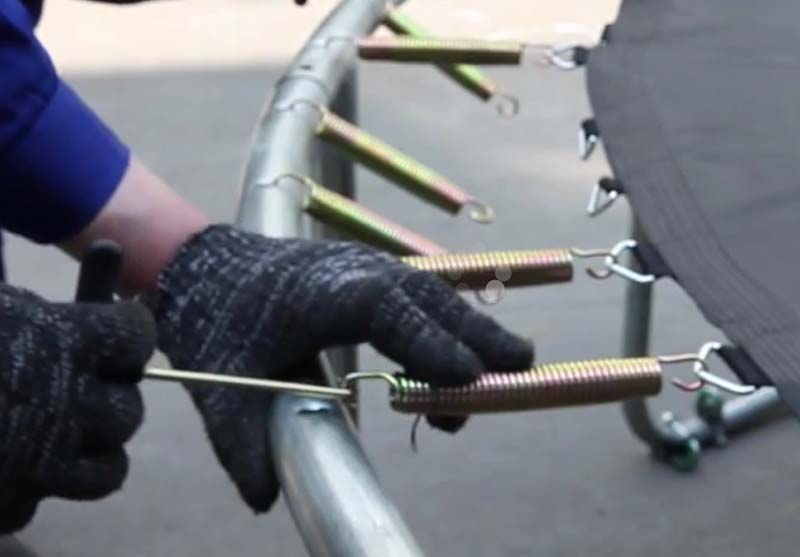 Some trampoline owners prefer to replace their trampoline springs frequently just to be on the safe side, as much it is a good and wise safety measure it is not really necessary, especially when your trampoline has not yet given you reason for replacement. You can focus on proper maintenance procedures since they will guarantee safety.
But then again, remember frequent replacements are a good and wise safety measure. If you are comfortable with letting off some bucks every one to two years then there is absolutely no harm in having an assurance of safety.
Alternatively, the frequency in replacement of trampoline springs can be reduced if not avoided. This is only possible with correct maintenance procedures.
How do you maintain your trampoline?
By storing it in a cool, dry place to avoid moisture from resting on the springs as it may end up forming rust on the spring material (steel).
It is also advisable to cover your trampoline with a strong waterproof material (tarp) when not in use. Covering up your trampoline protects it from excessive heat from the sun, rust, possible defects caused by critters, damage by children, etc.
What's more, consider spraying it with anti-rust products to prevent the parts prone to rust like the springs from rusting.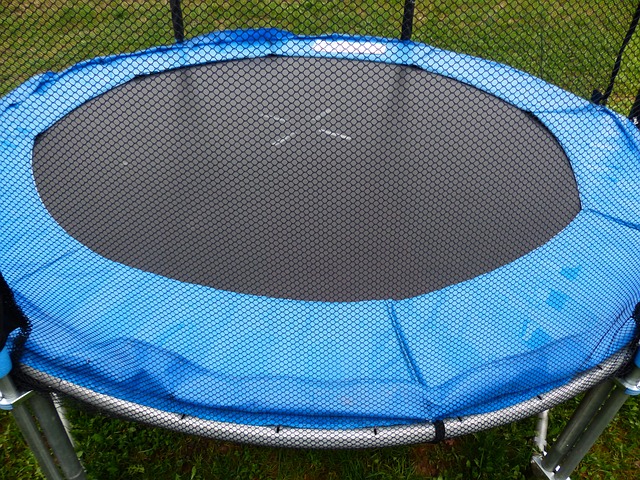 Lastly, as the saying goes cheap is expensive, never compromise safety for the sake of a few bucks. I understand that we live in a society where bargaining is a way of life, but as you make the bargain, ask yourself how worthy is it.
Between getting a poor quality product that will require a new replacement after a short time and getting good quality that will serve you for long which is better? Furthermore, safety is what is at stake here. For replacement springs for trampoline safety pads, always go for quality and durability if at only you want that fun to last for long.
As the owner of the trampoline, you really have to make a wise decision when it comes to this. This is to avoid any unsafe scenario that may be associated with opting for unprofessional procedures.