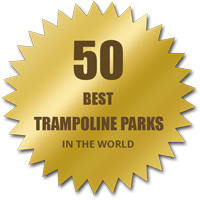 Are you looking for a trampoline park for your exercise? Then you are at the right place.Here are the best 50 trampoline parks located in different countries.(you may find some near your home).
As a leading trampoline manufacturer,Domijump has the ability to choose the best 50 trampoline park for sure.
As you know ,there is a huge amount of good trampoline parks out there, but I decided to separate the wheat from the chaff and give you the absolute cream of the crop.
As long as you are a fan of jumping ,these trampoline parks will provide you crazy fun !
Quick note: This is an exclusive list. All the winners were selected based on a certain number of factors and it can't be modified.
Skyzone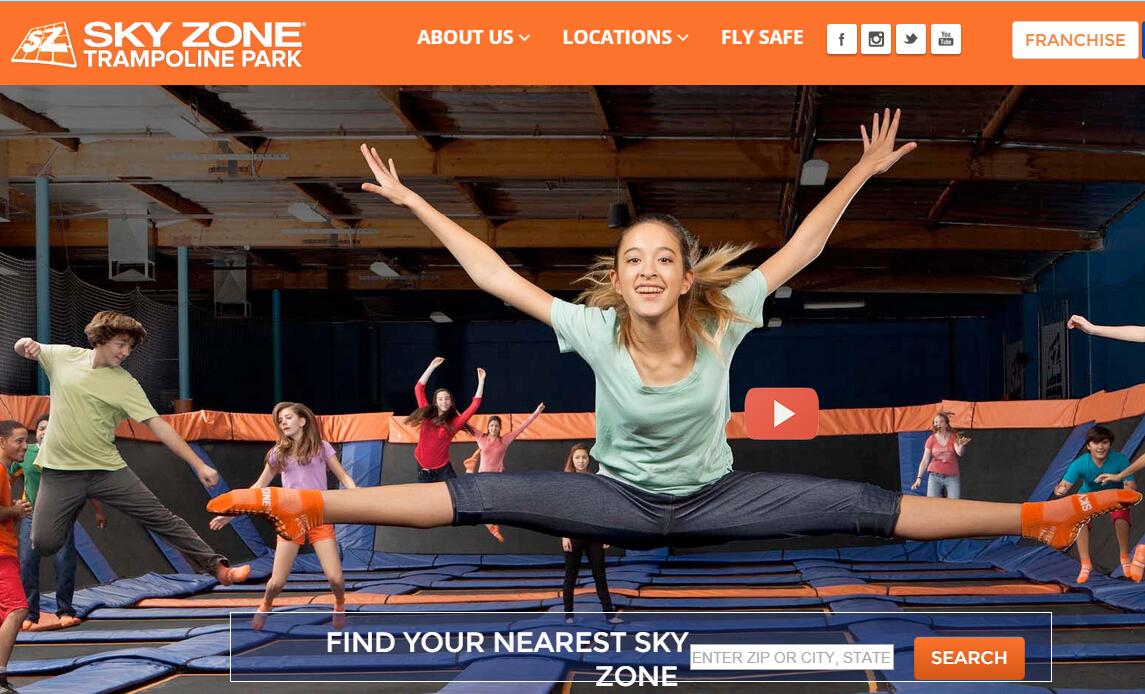 Skyzone  is the world's first indoor trampoline park first Located in US,they're the inventors of "fun fitness" and the makers of trampolines as far as the eye can see, and they will give you one of the greatest workouts ever combined with awesome, healthy fun. Now you can find skyzone in America,Canada,Australia,and Mexico.For detailed location,you can check their Locations Listing.
Flight Trampoline Park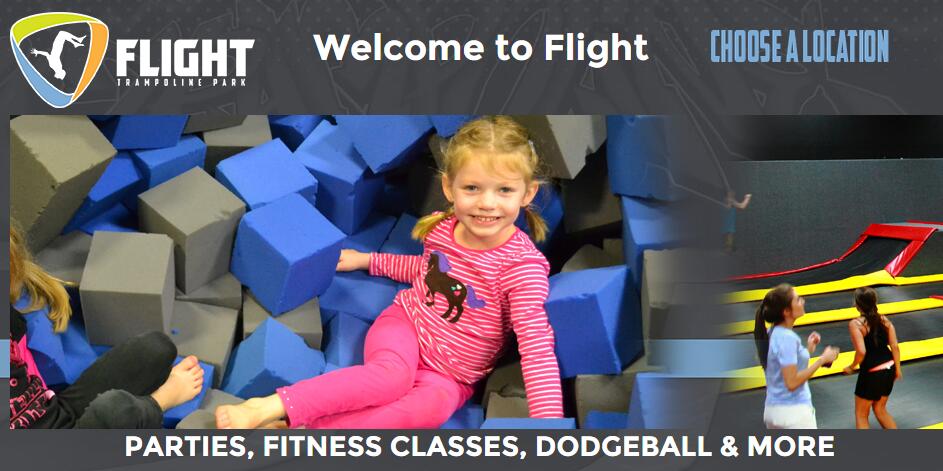 Flight Trampoline Park is a cutting-edge entertainment, fitness and sports facility unlike anything you have ever experienced. The first of its kind, Flight Trampoline Park is the ultimate venue for active social outings, intense individual workouts and memorable birthday parties.You can find them from their location list .
House of Air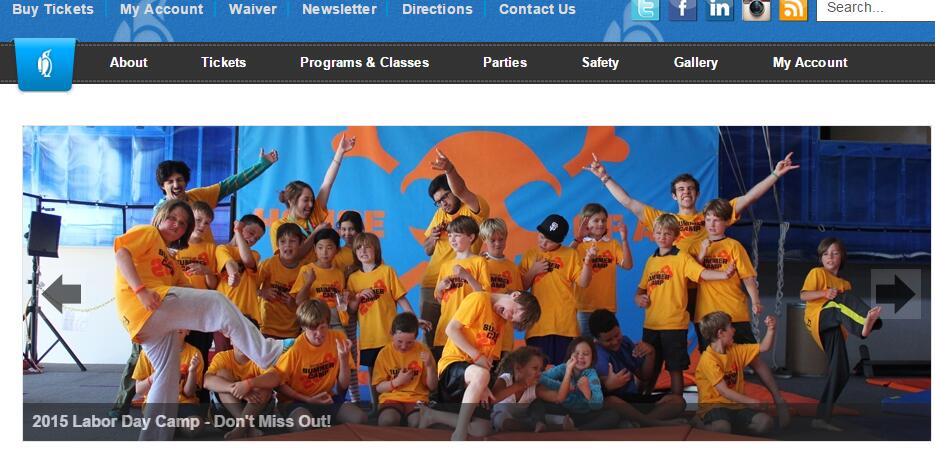 House of Air is recognized globally as the premiere trampoline park brand and a pioneer and leader in safety, park design, risk management, programs development, employee training and operational excellence. House of Air gives "Flight to the Flightless".
Urban air trampoline park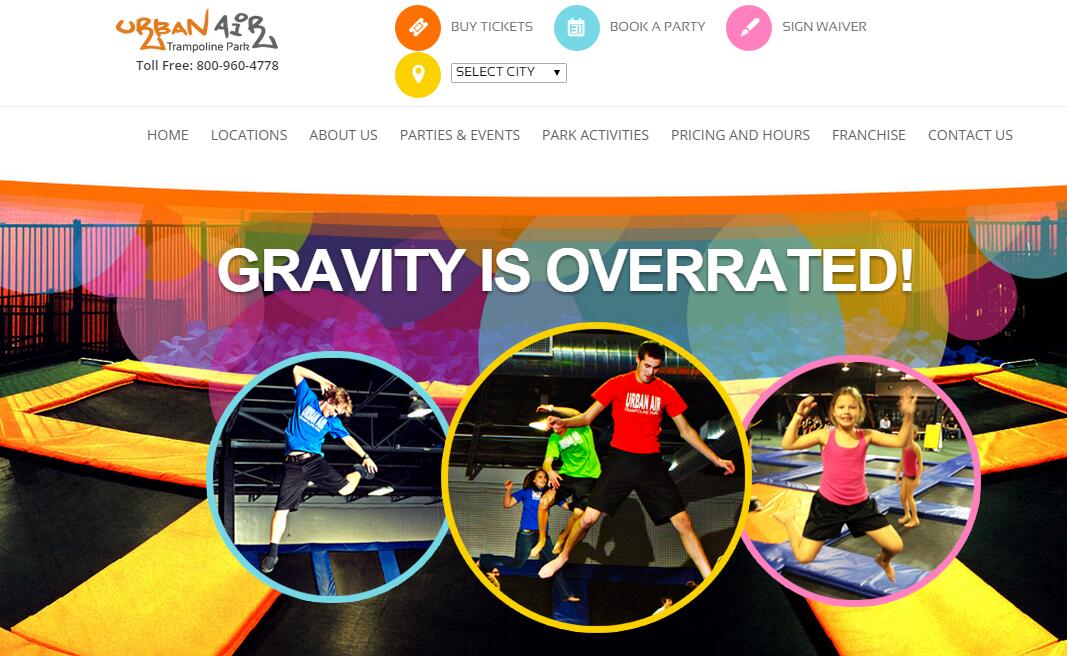 Urban Air Trampoline Park is the perfect place to launch your career with flexible full or part time opportunities.you do not need to worry that you have no experience ,they will train you , At Urban Air, you'll learn the skills and gain the experience needed to grow in your career.you can find their location here .
Launch Trampoline Park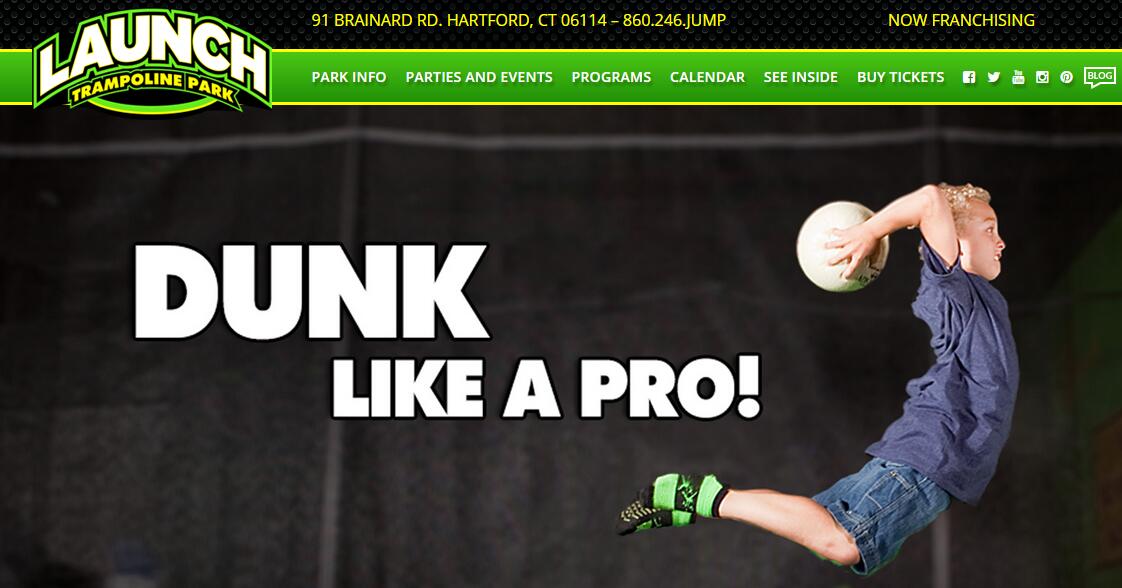 Launch Park is a year-round destination-entertainment center of connected trampolines forming GIANT jumping surfaces. This makes Launch the perfect social gathering place for date night, a birthday party, a family event, a corporate event, a church outing, a fundraiser or just a friendly get-together in a safe and enjoyable environment.
LZ Trampoline Park
LZ is the premiere Edmonton Trampoline Park where people of all ages go on a rainy or snowy day for indoor fun and recreation. LZ is the best Edmonton trampoline park to have your next Birthday Party, company team building event, or just have a great day of Fitness!
Jump street Trampoline Park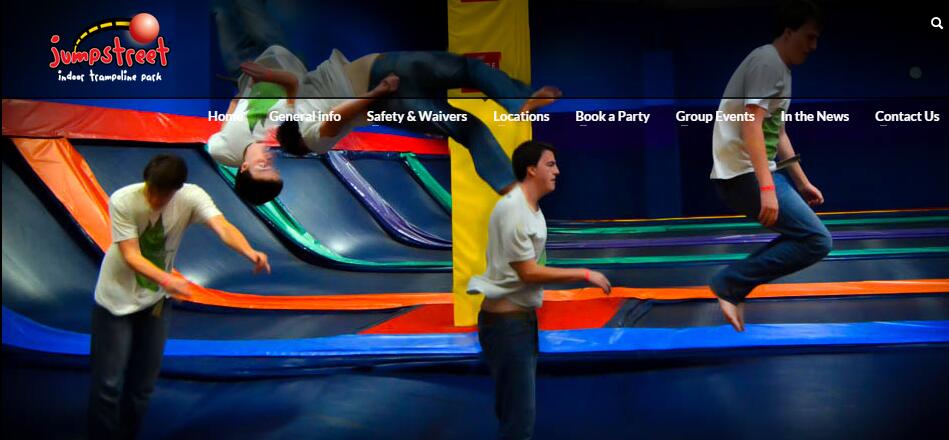 Jumpstreet opened their first indoor trampoline park in 2007 in CO. Since that point in time, they have expanded to locations across the country. And still  continue to grow, their corporate mission is  "To provide families, schools, groups and corporations a safe, fun environment to come and play."
Rockin jump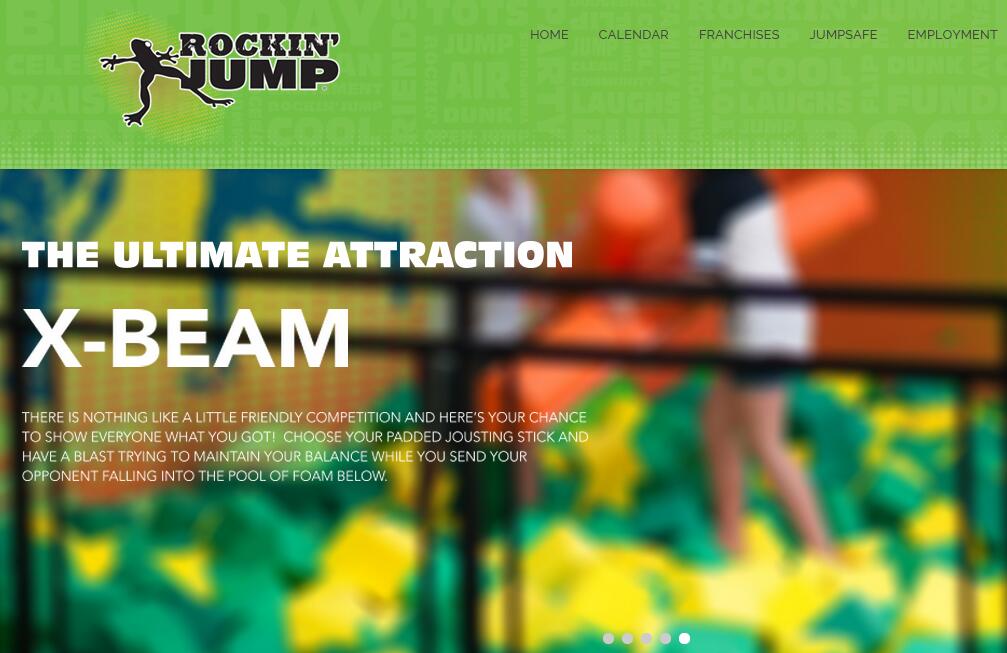 Rockin' Jump has opened four corporate locations in the San Francisco Bay Area and in June of 2013 began selling franchise locations. With a projection of 30 open locations by the end of 2015 and even greater growth in 2016 the Rockin' Jump vision has become reality.
Air maxx trampoline park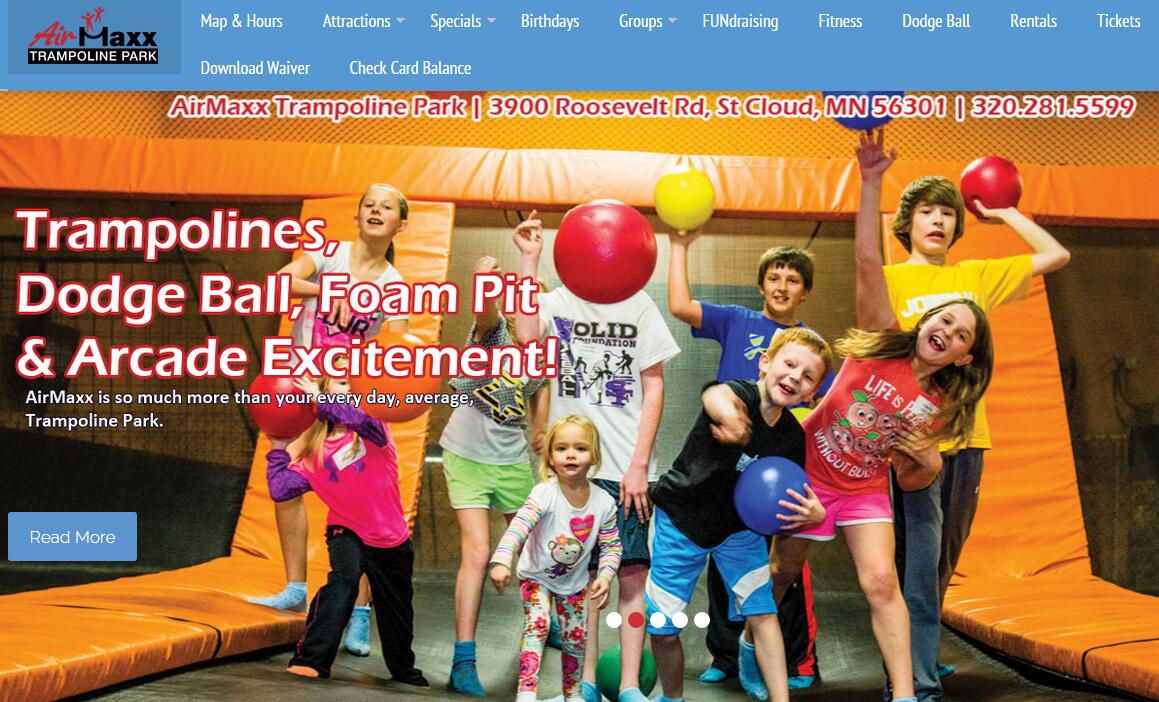 AirMaxx Trampoline Park specializes in fun for all ages! Guests can jump on their trampolines in one of three courts or enjoy a jump into their awesome foam pit. You can also enjoy some games in our lobby while you cool off from all the great exercise!
Helium Trampoline Park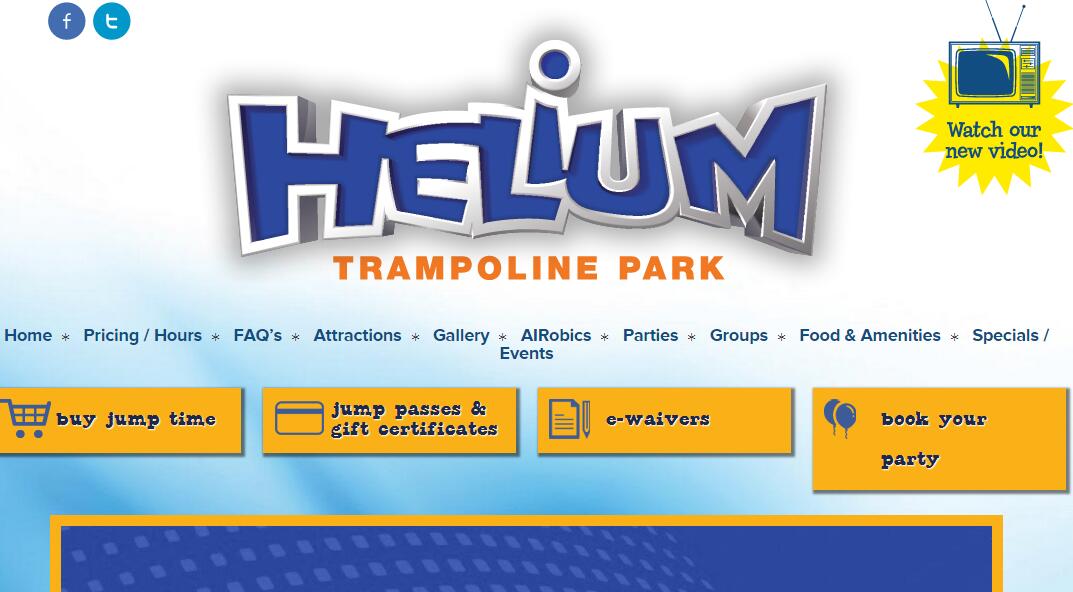 Helium Trampoline Park in New Berlin is the first of its kind in Greater Milwaukee, and the state of Wisconsin.They specialize in birthday parties serving Milawaukee and Waukesha.
Rebounderz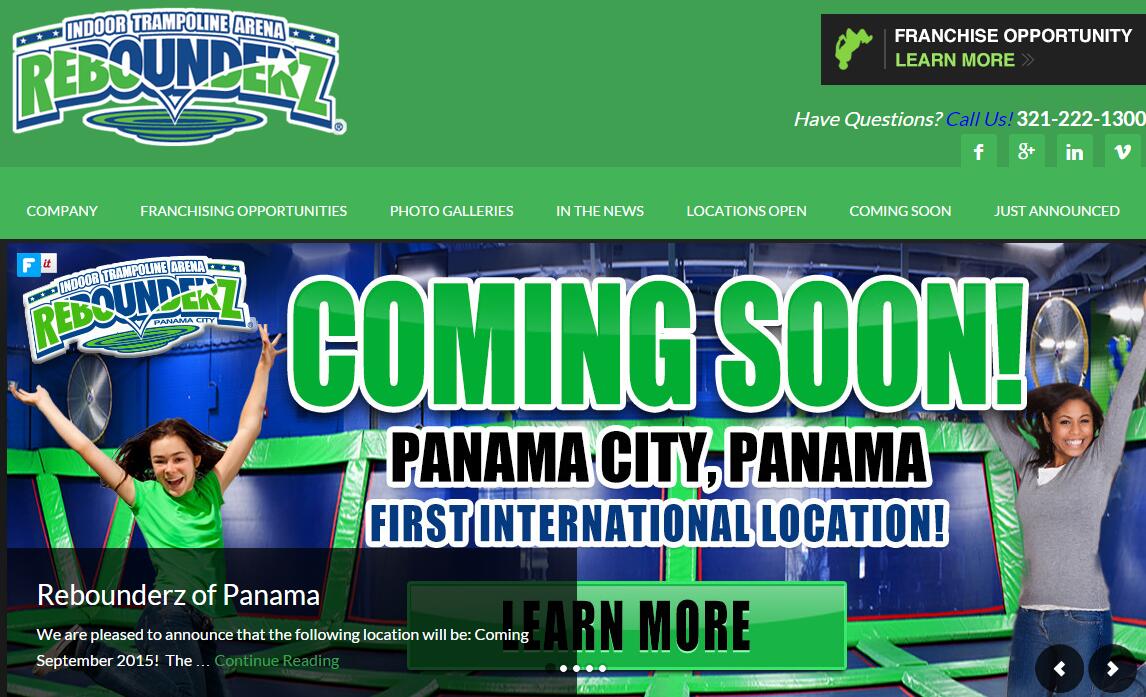 Rebounderz is one of the fastest growing franchises in the industry. Their patented trampoline arena design puts them ahead of their competitors and the proven franchise model can be easily implemented anywhere in the country.
Altitude Trampoline Park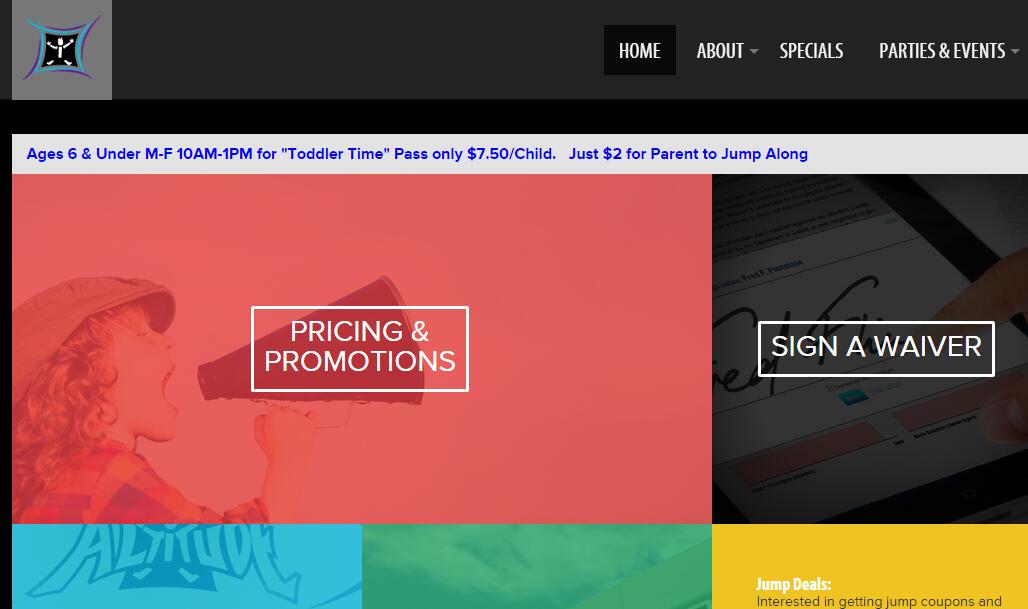 Altitude Trampoline Park is the premier fun center for young and old in north Ft Worth and surrounding communities.
AirFX Trampoline Park
AirFX trampoline park has  40,000 square feet for  family fun! Including wall-to-wall trampolines, Kid's Zone for small children, dodgeball court, trampoline basketball, 18- and 24-foot tumble tracks, jumping pits, slackline/tightrope, Lazer Frenzy, party rooms, miniature golf, outdoor soccer, pizza, soft drinks, ice cream and more!
Air Bound Trampoline Park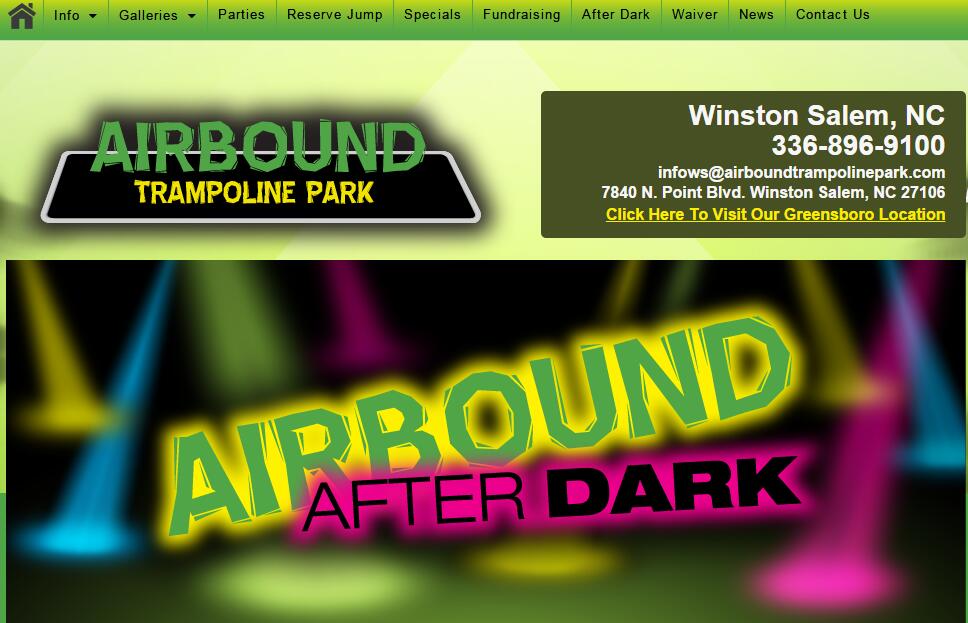 Don't let gravity hold you down! Jump into a totally unique and cutting edge experience at Airbound Trampoline Park, the Piedmont Triads only trampoline parks. With over 12,000 square feet of custom made trampolines adjoining the floors and walls, and set in a family friendly atmosphere, they are dedicated to one thing: SAFE EXTREME FUN!So whether you come with your kids, your friends, or the whole family, you'll see why they're quickly becoming the Triad's number one fun facility!
Air Time Trampoline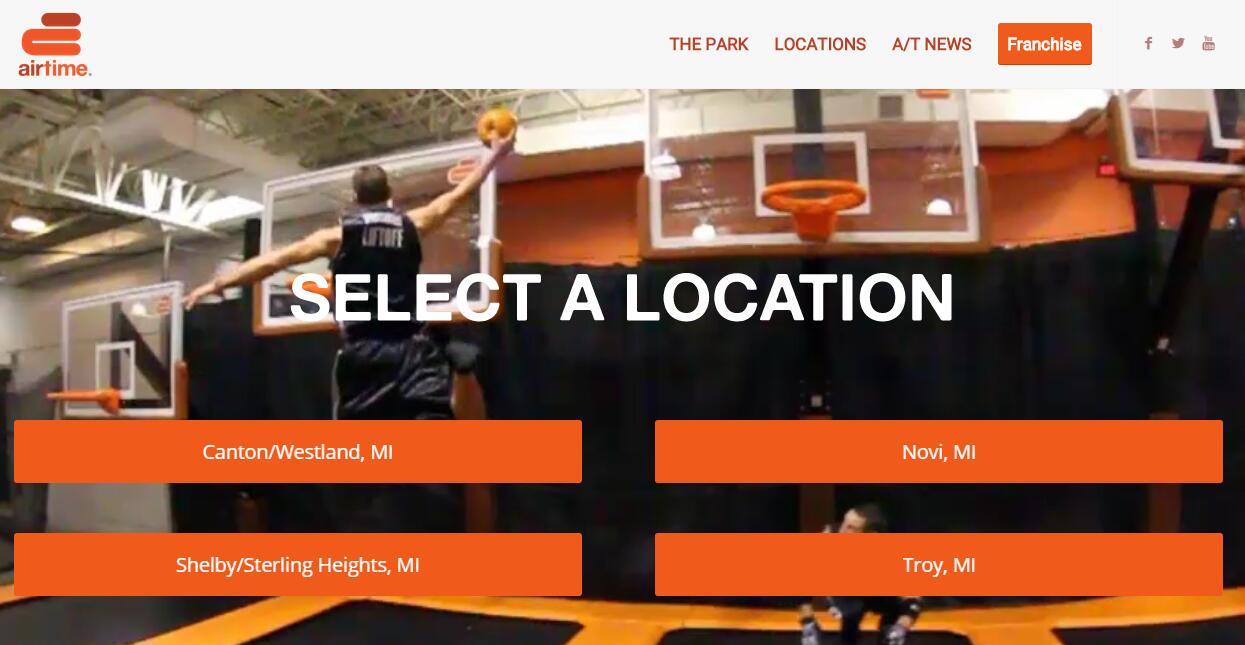 AirTime Trampoline & Game Park is dedicated to GIVING BACK to our community. They are proud to support the Metro Detroit area and invite you to host your next fundraiser at our park. AirTime Fundraisers offer a unique and MEMORABLE way to jump start your fundraising.
Knuckle Heads Trampoline Park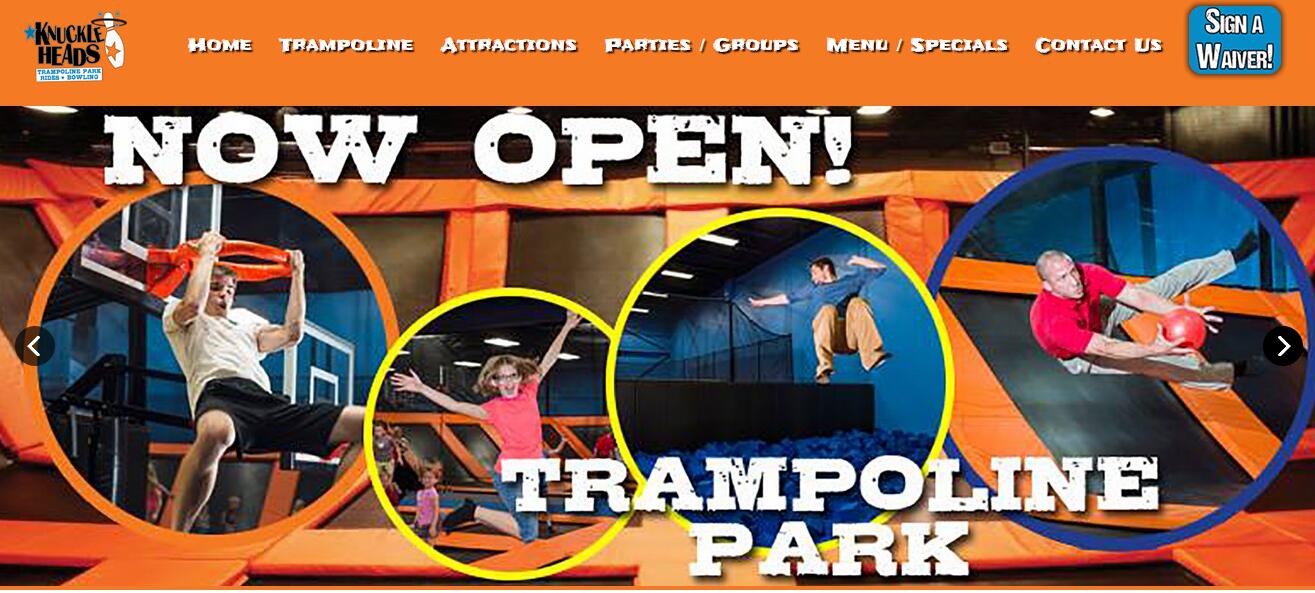 Knuckle Heads Trampoline Park is a great place for jumping exercise and friend party,All customers there have good feedback .
Big Air USA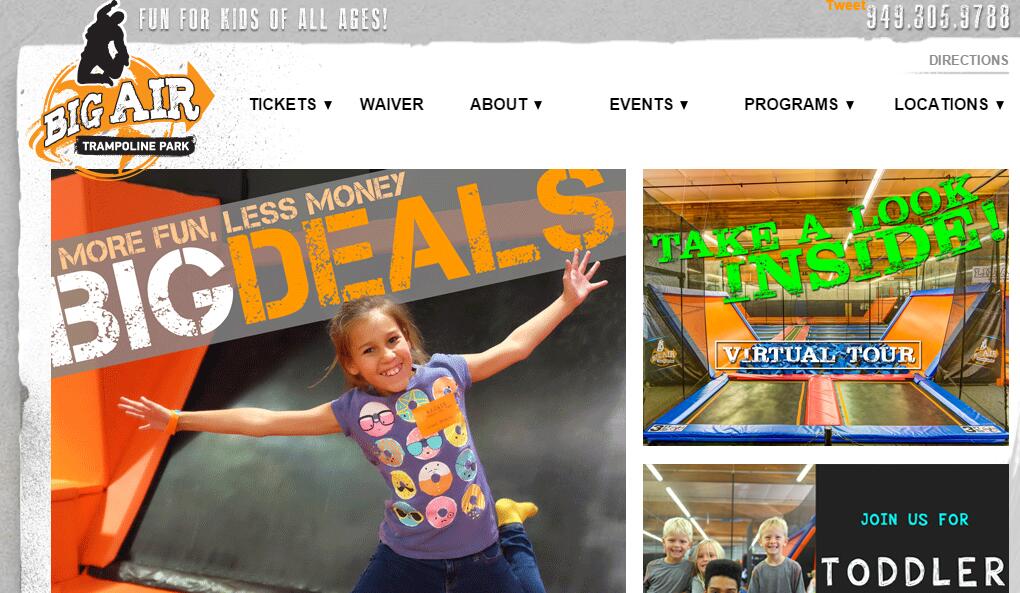 Big air trampoline park is the premier indoor trampoline park in South Orange County offers high-flying fun for the whole family where you can literally bounce off the walls! The 17,000 square feet of jumping surfaces include trampoline dodgeball courts, slam dunk courts, foam pits, launch pads, a rock climbing wall, battle beam and massive freestyle court. With so much to do, Big Air is the ideal venue for your next birthday, team party, and/or group event.
Zero Gravity Trampoline Park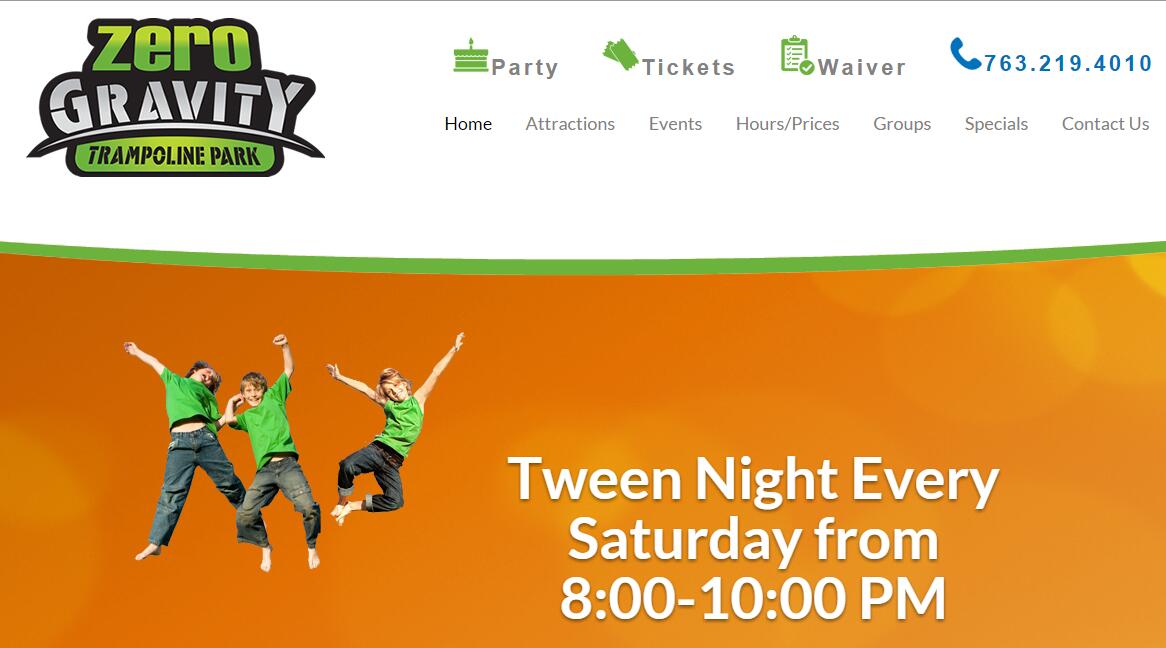 Shoot your way through two levels of intergalactic fun in Zero Gravity Trampoline Park,they have  new CYBERBLAST arena that can accommodate up to 20 players.
Ryze Trampoline Park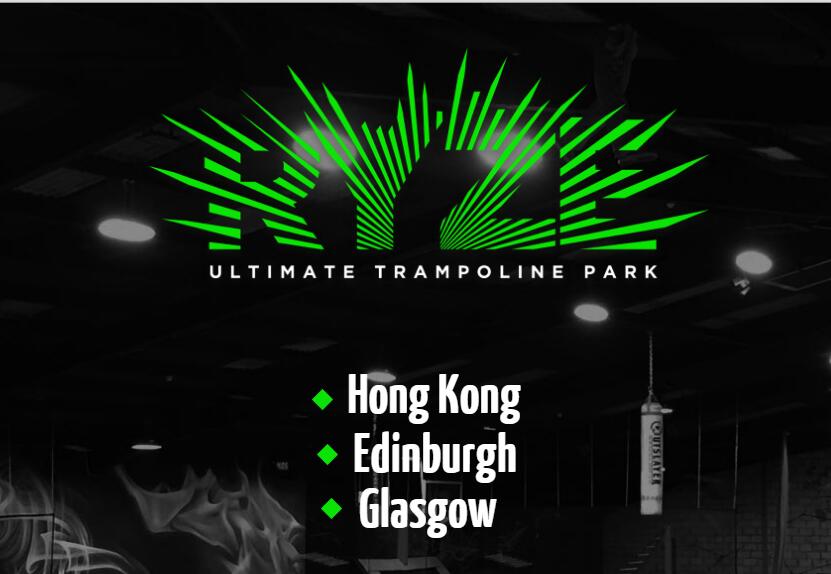 Ryze is on a mission to create the world's most awesome trampoline parks. With over 25 operating facilities, including both the RYZE brand (International Parks) and theirU.S. affiliated parks under various brands, Ryze is the largest developer, owner and operator of indoor trampoline parks in the world.
The Jump Park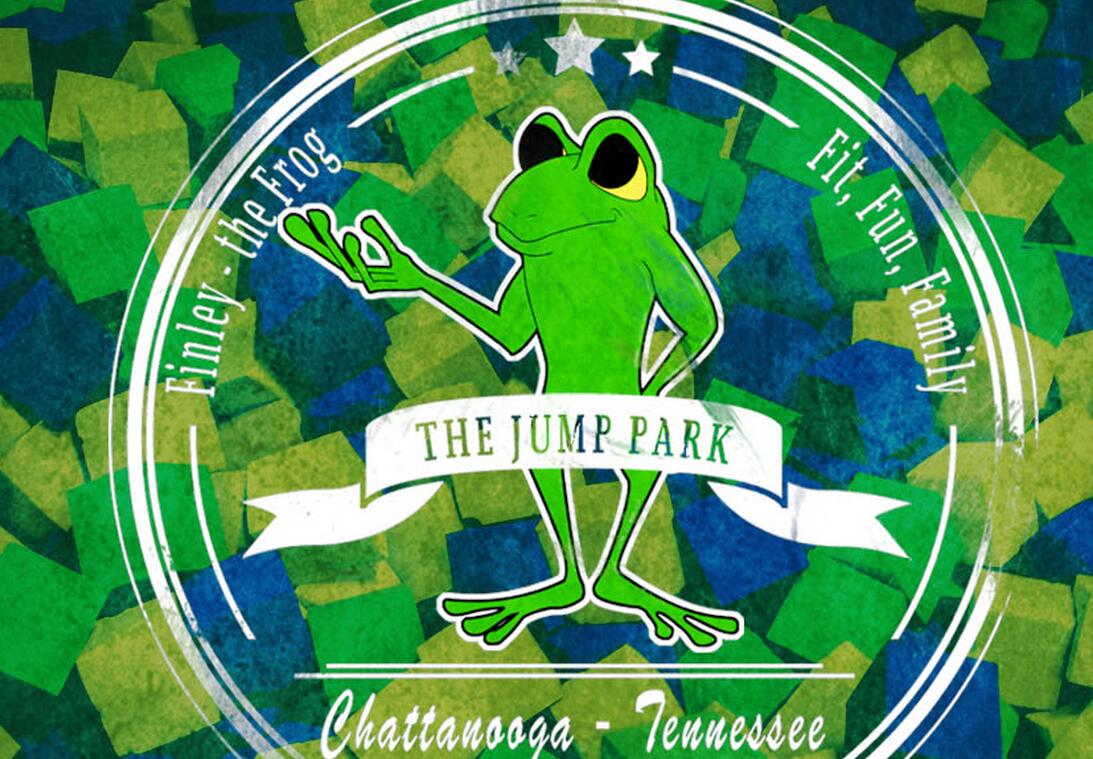 The Jump Park is Chattanooga's First Indoor Trampoline Park!They have Foam Pits, Slack Lines, Dodgeball Court, Rope Swings, Trapeze Bars, Basketball Goals & Upstairs Game Room.
G6 Air Park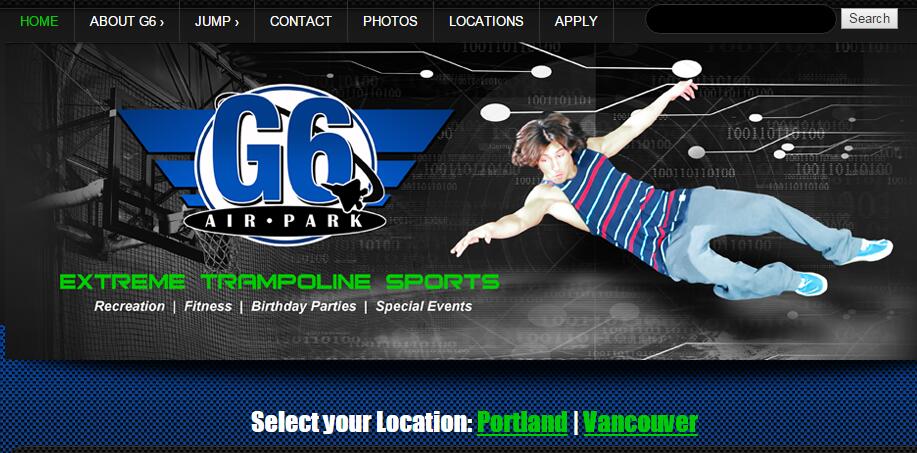 G6 Airpark – Extreme Trampoline Sports, is Portland and SW Washington's premier indoor trampoline park. Wall-to-wall trampolines, including a huge open jump arena, dodge ball court, 'trick' zone, basketball dunk station, and a separate zone for children, G6 Airpark provides a safe, healthy, and exciting activity for all ages.
Jump America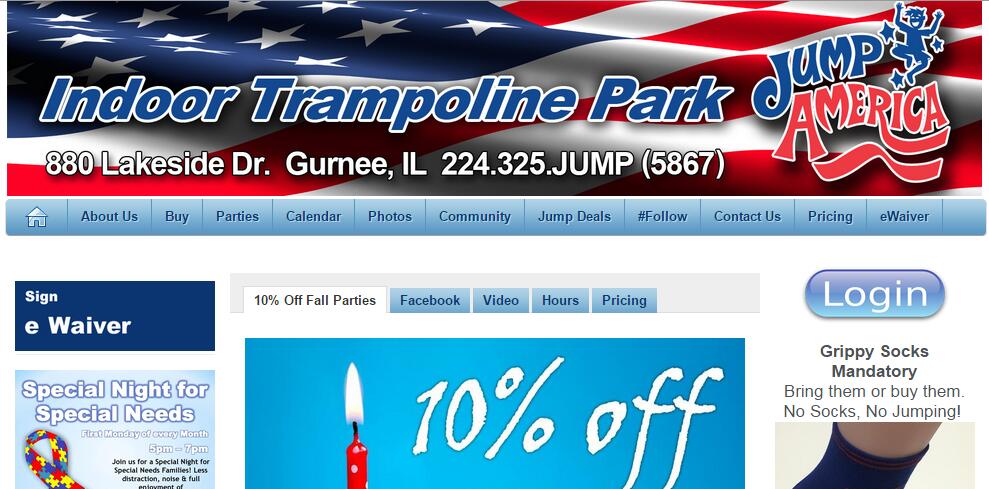 Jump America  have over 16,000 square feet of trampolines including two dodge-ball courts, a foam jumping pit, kid's zone, and more! This is an awesome facility designed for jumpers from age 4 and up.
Gravity Force

Gravity Force pride ourselves in giving passionate and hardworking individuals a chance to join one of the strongest teams around.
The Wair House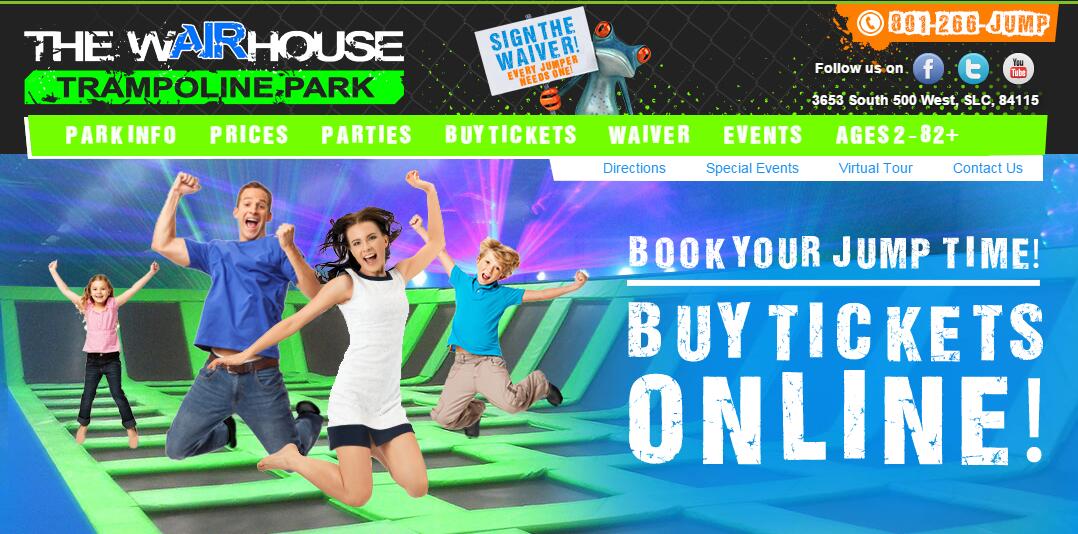 The Wairhouse Trampoline Park is Salt Lake City's premier recreational facility for ages 2 and up. With more than 35,000 square feet, The Wairhouse is home to 2 full size Dodge Ball courts, 4 Slam Dunk Basketball Lanes, a huge Open Jump Court, a Foam Pit, and the largest Kids Court in the Country.
JUMP NATION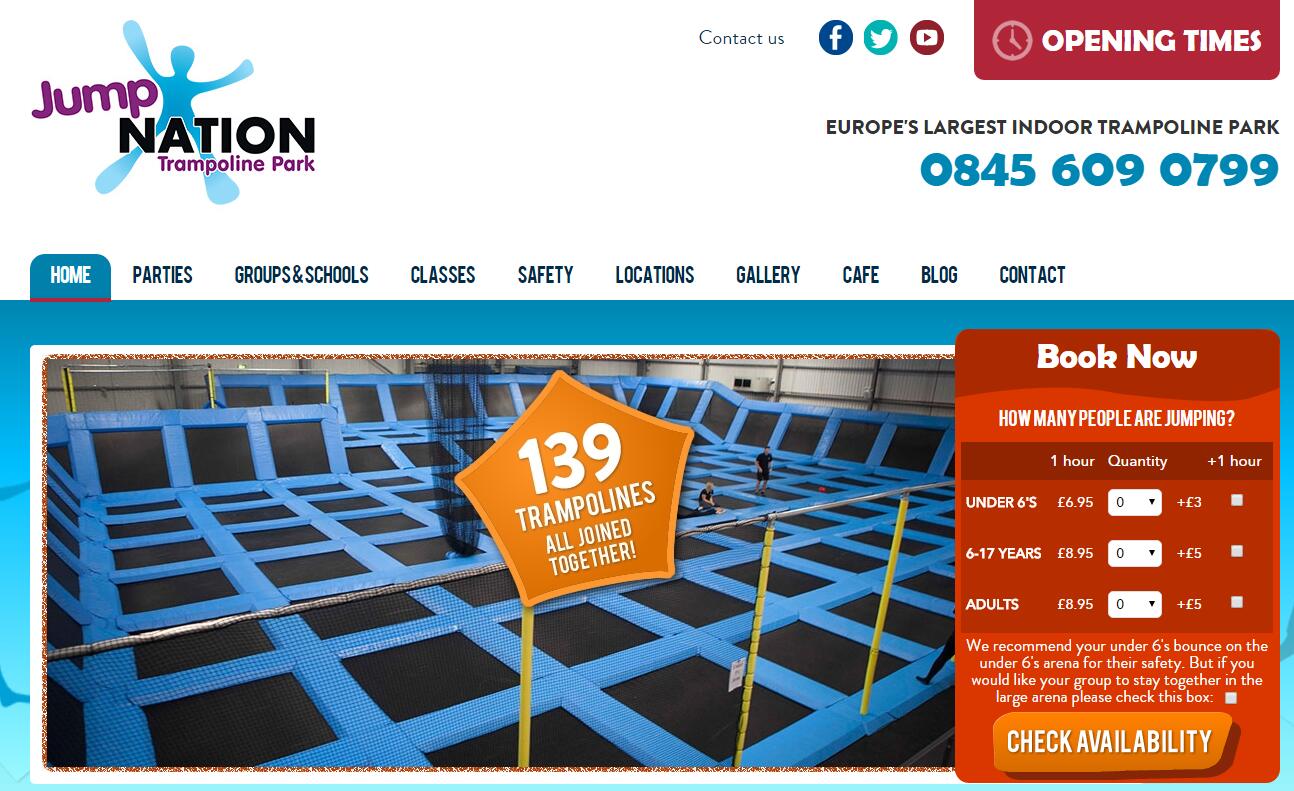 Jump nation offer kids and adults alike unrivalled high flying fun. Jump Nation can be enjoyed by just about anyone, of any age, shape and physical ability.
Planet Air Sports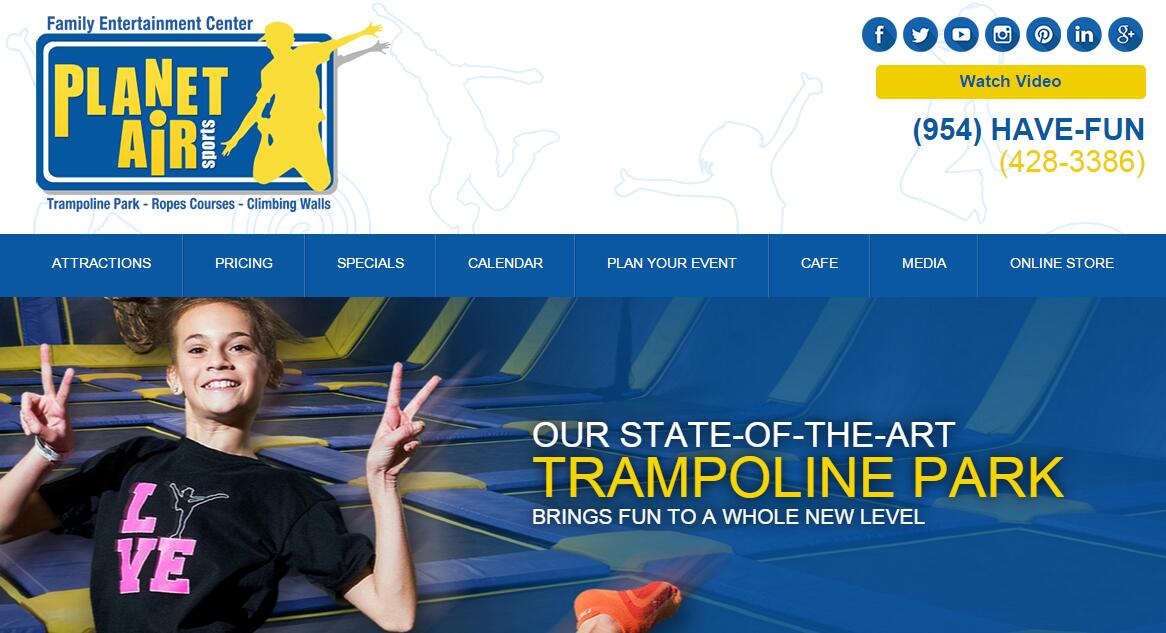 Planet Air Sports is a state-of-the-art facility introducing a unique approach to exercise and sports training while having fun. They are a fitness for fun facility, and they cater to the parents as much as they cater to the kids.
Jumpin fun sports

Jumpin Fun is a spectacular 26,000 square foot indoor trampoline park that serves the greater Sarasota and Bradenton areas. Supplying fun for the entire family, Jumpin Fun has something for everyone.
AirHop Trampoline Park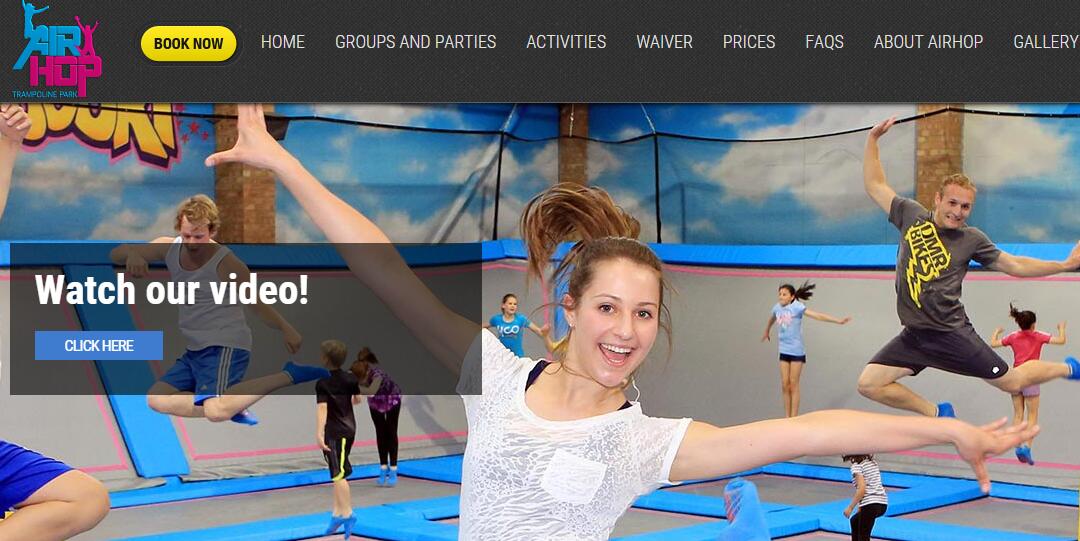 AirHop is one of the first indoor trampoline parks to land on English shores. Its arrival brings with it a massive indoor arena filled wall to wall with trampolines.
Zip City Trampoline Park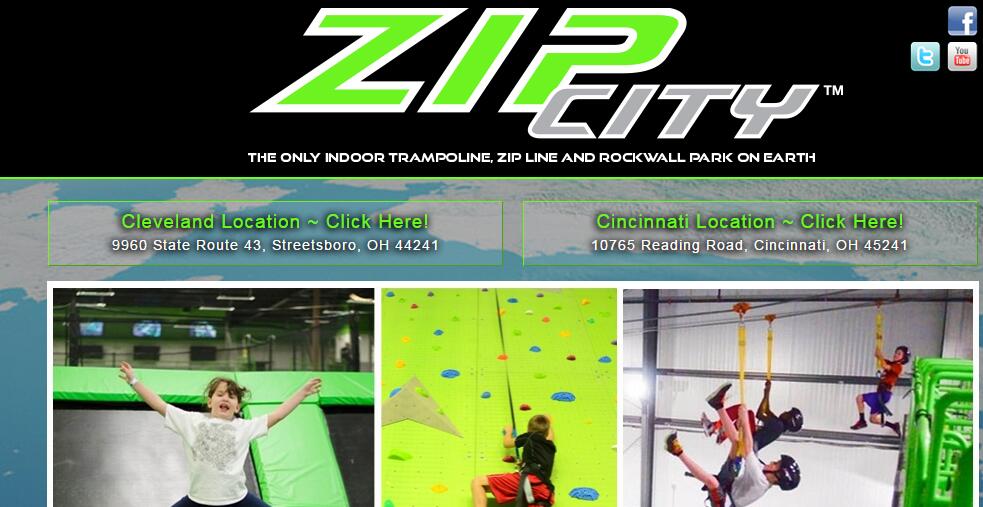 ZipCity™ is not your average trampoline park. Zip City provides all the fun you can have on trampolines, with the added excitement of being the only indoor Zipline Park on Earth, and, coming this Fall, a brand new Rock Wall!
Elevation Trampoline Park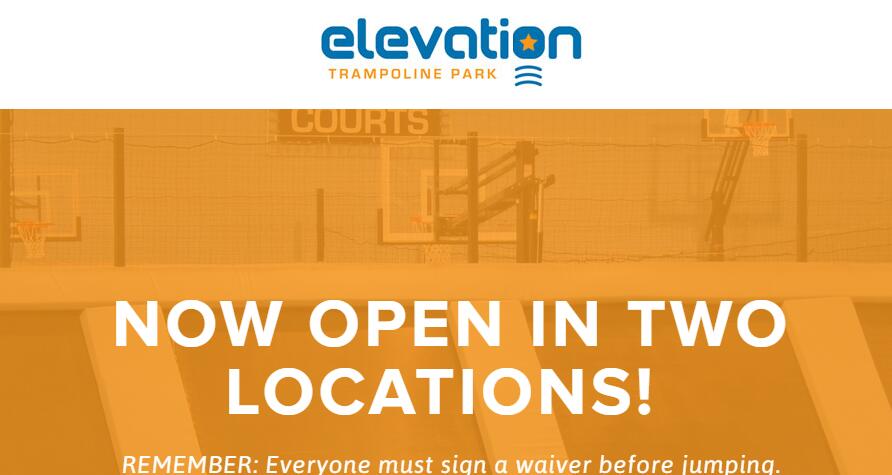 Elevation Trampoline Park specializes in providing athletic recreation for ages 7 and older . No special skills or talents required. They also have a smaller Kids Court for ages 24 months to 6 years old.
Jump Deck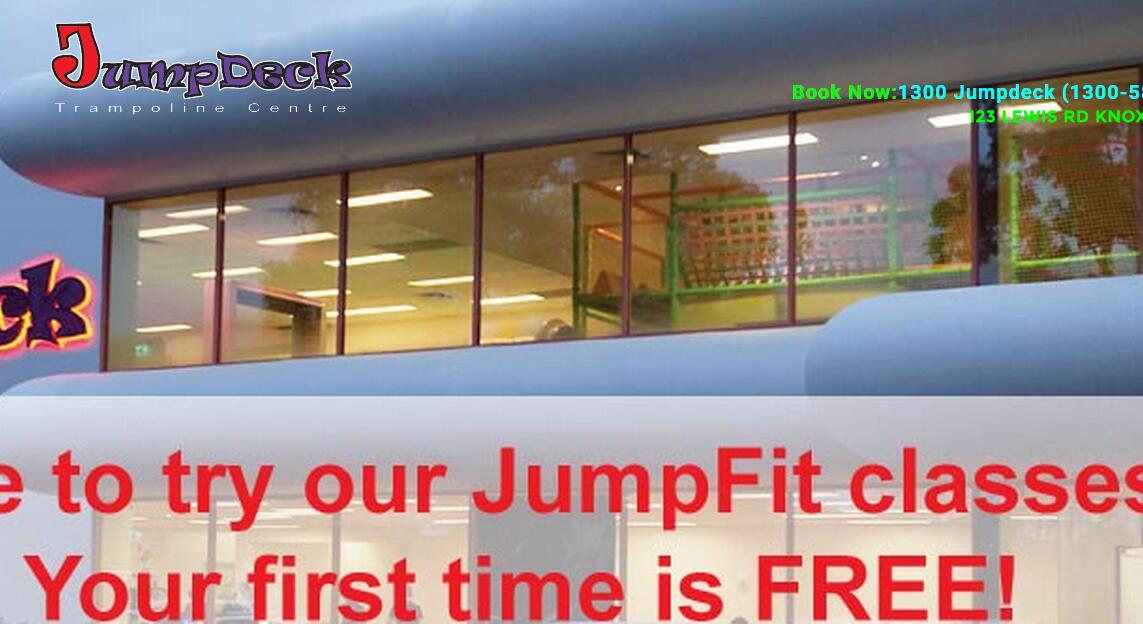 Located at 123 Lewis Road, Knoxfield, less than 1Km from Westfield Knox Shopping Centre. Jumpdeck is one of Melbourne's newest Indoor Trampoline Centre's.
Aero Sports Park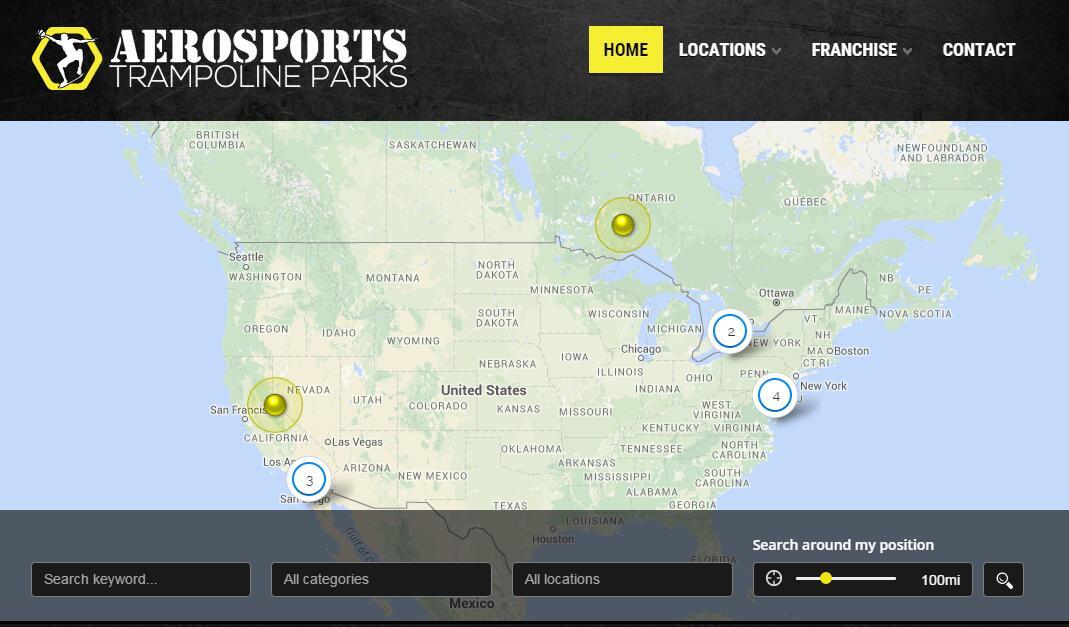 Aero Sports Park has 35,000 Square Ft Trampoline Park, wifi lounge, dodgeball, main arena, little jumpers arena, arcade, foam pits, snack shack, Aerofit and more.
EPIC AIR TRAMPOLINE PARK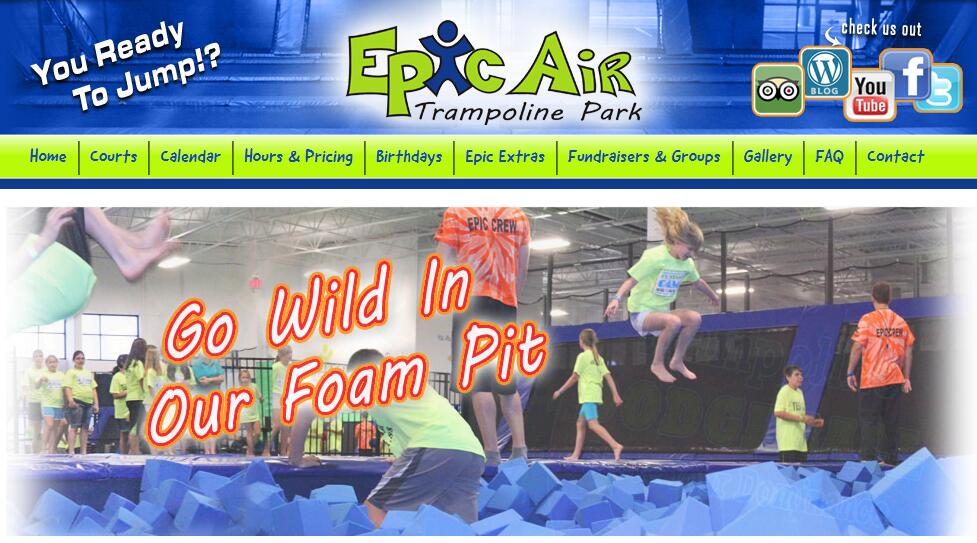 Come have an EPIC experience at our 30,000 square foot trampoline park where you can enjoy flipping high up into the air in our open jump arena, jumping your way down our long trampoline tracks, or leaping into our pool of foam cubes!
Absolute Air Park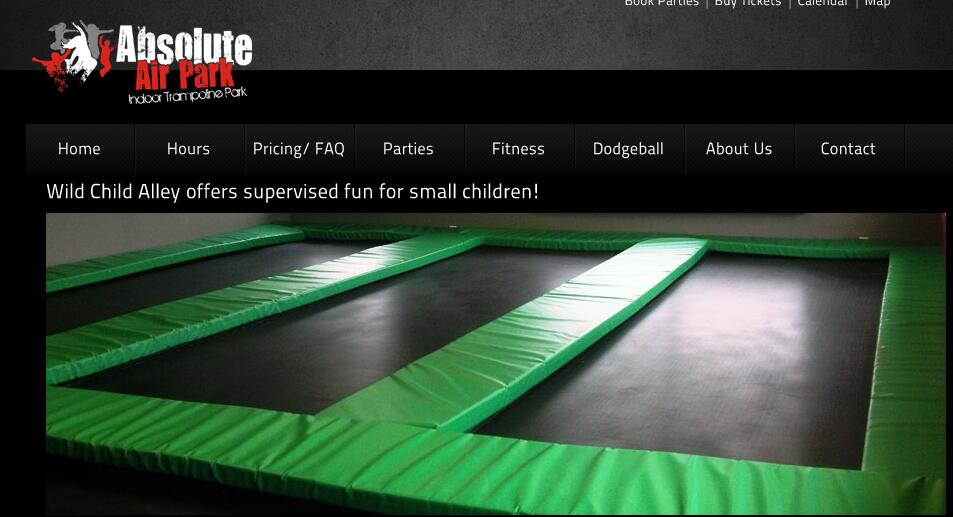 Absolute Air Park is a state-of the-art indoor trampoline facility that introduces a fresh approach to exercise, entertainment, friends and fun!
Launching Pad Trampoline Park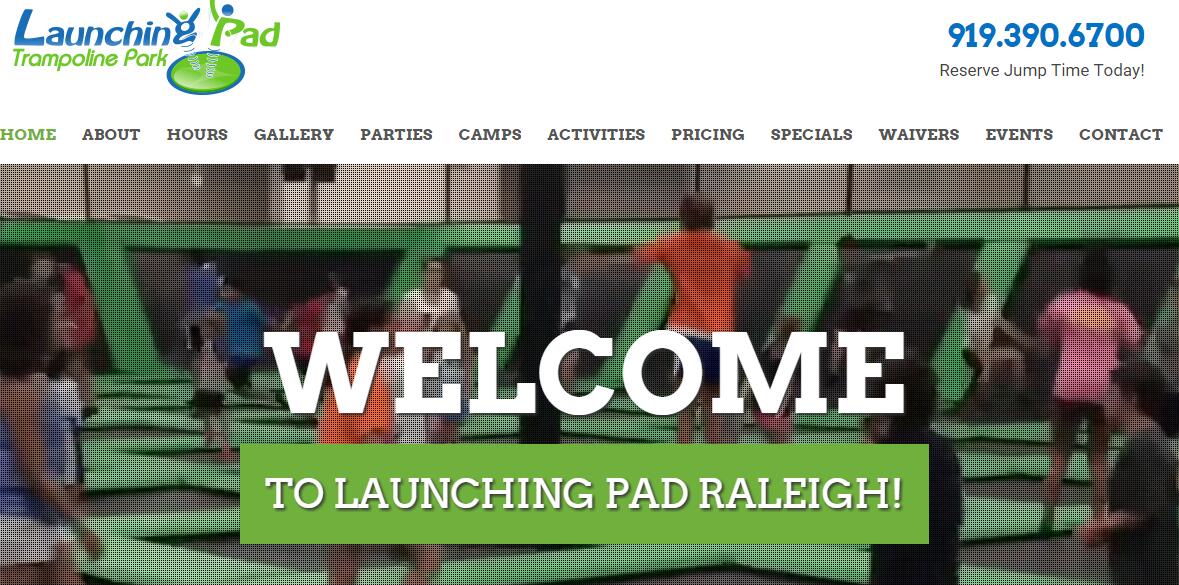 Launching Pad Trampoline Park believes in the combination of physical activity and fun. Their facility offers a unique place to get a great workout, have a birthday party, or simply bring your kids for an enjoyable day off.
Springtime

Springtime specializes in providing athletic recreation for all ages. No special skills or talents required.
Get Air Temecula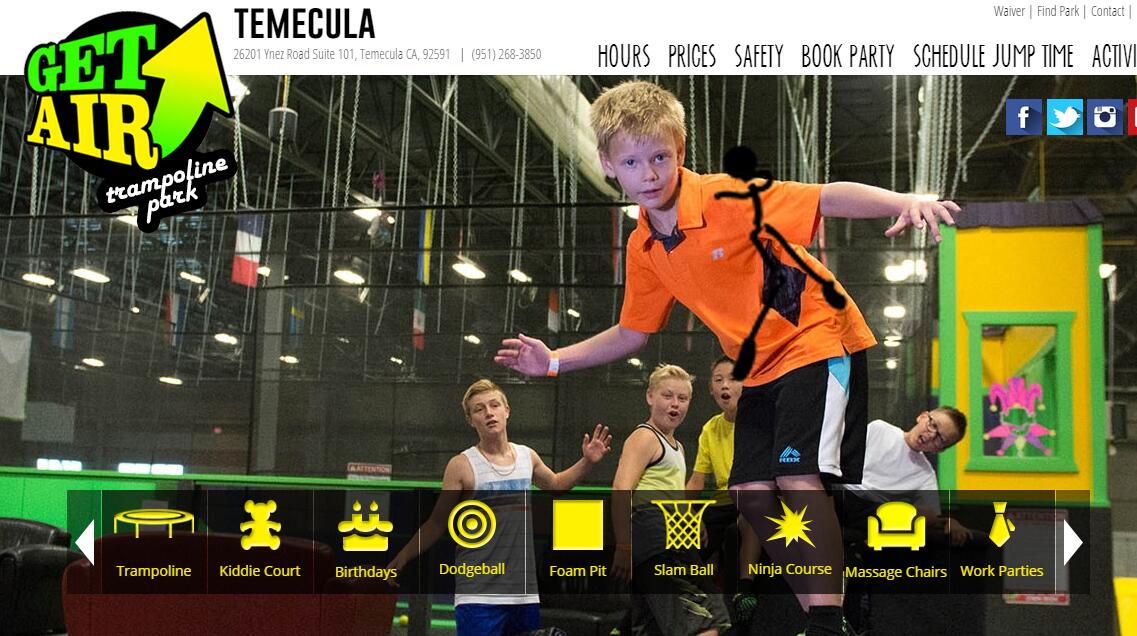 Get Air Temecula is an indoor trampoline park for people of all ages. We are now open! We also offer birthday parties and large group discounts.
AIR PORT PARK Trampoline parks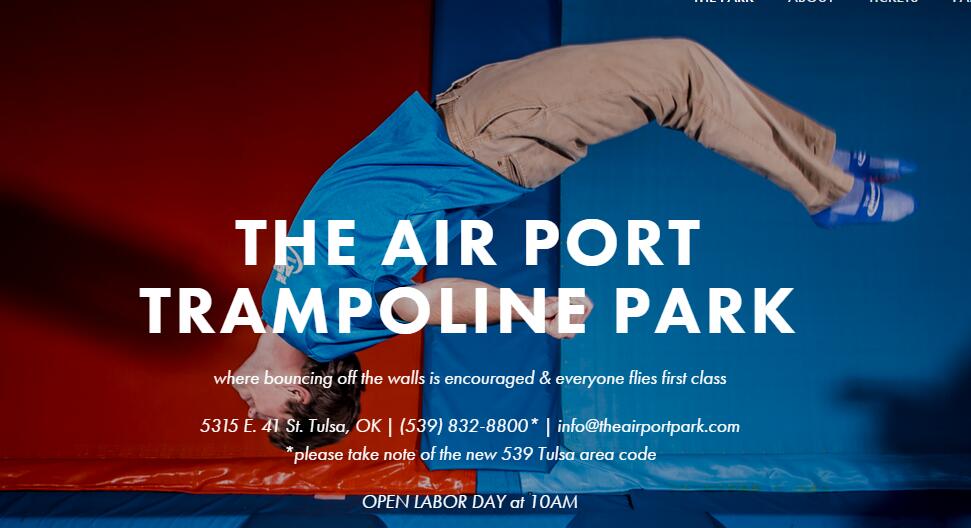 THE AIR PORT PARK Trampoline parks are fast becoming the ideal destination adventure for kids and families.
Air Factory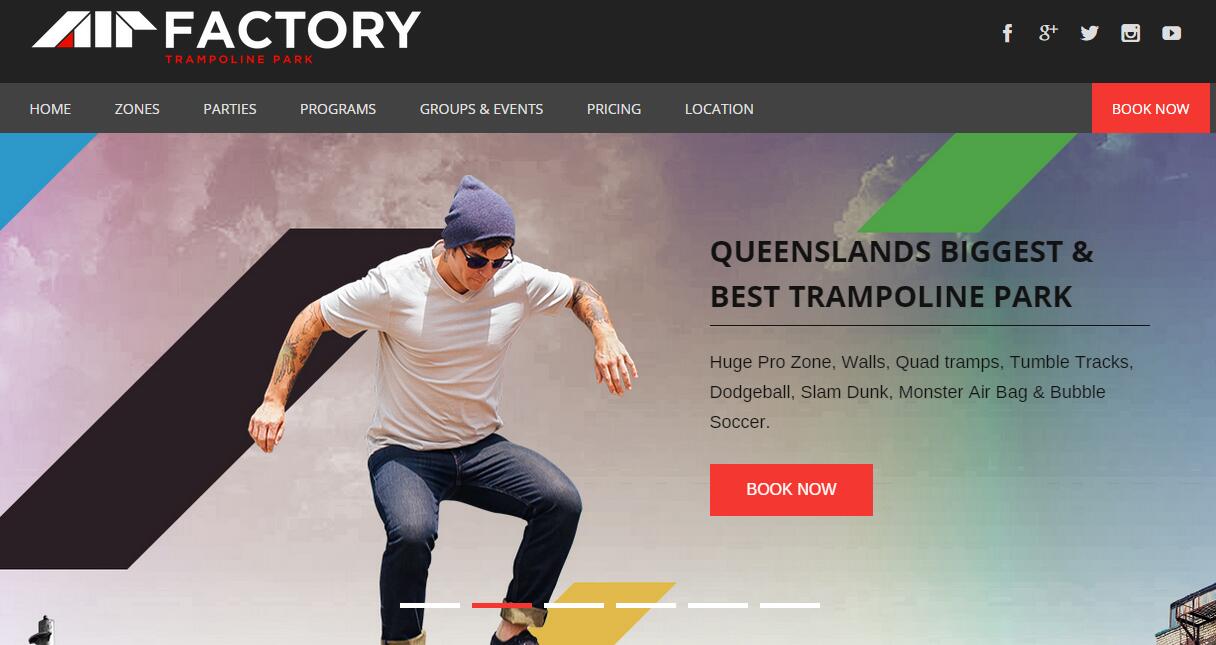 Air Factory Gold Coast is Australia's largest Trampoline Park, complete with Bubble Soccer Arena & over 140 trampolines.
Fly High Trampoline Park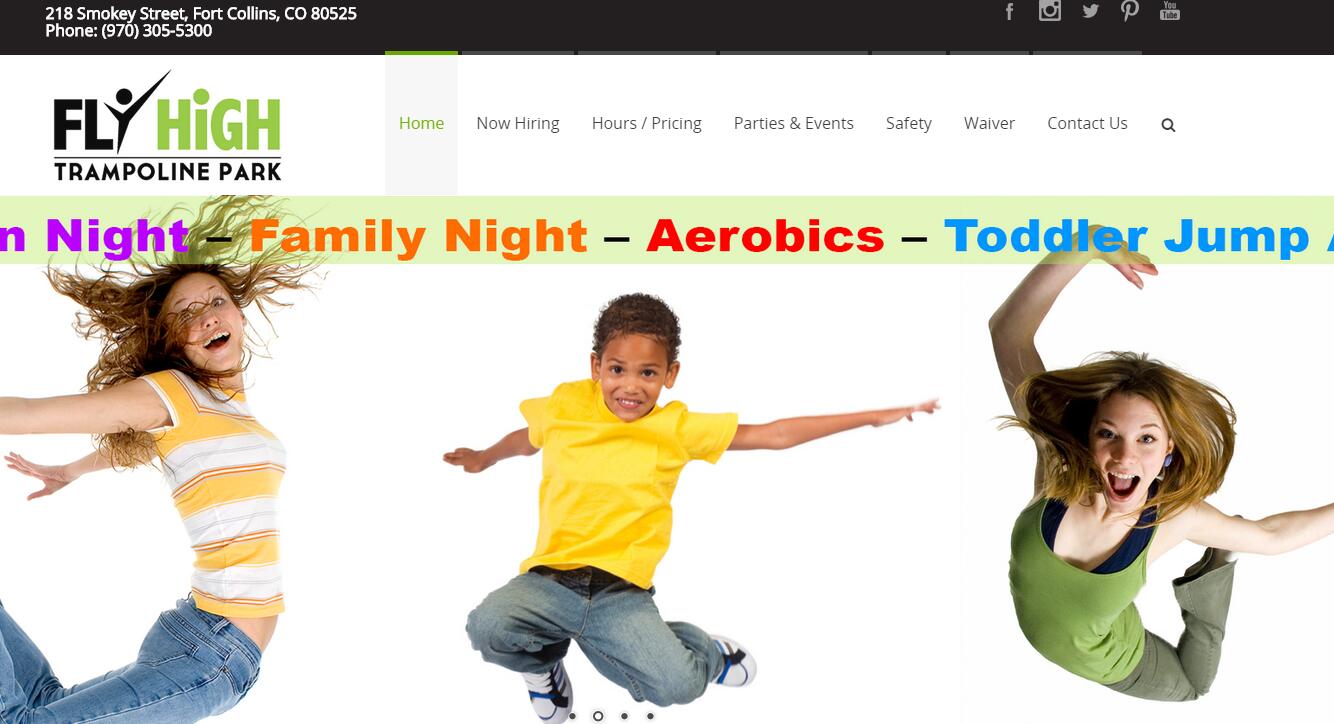 Fly High Trampoline Park is Fort Collins first Wall-to-Wall Trampoline arena.
JumpStreet Trampoline Parks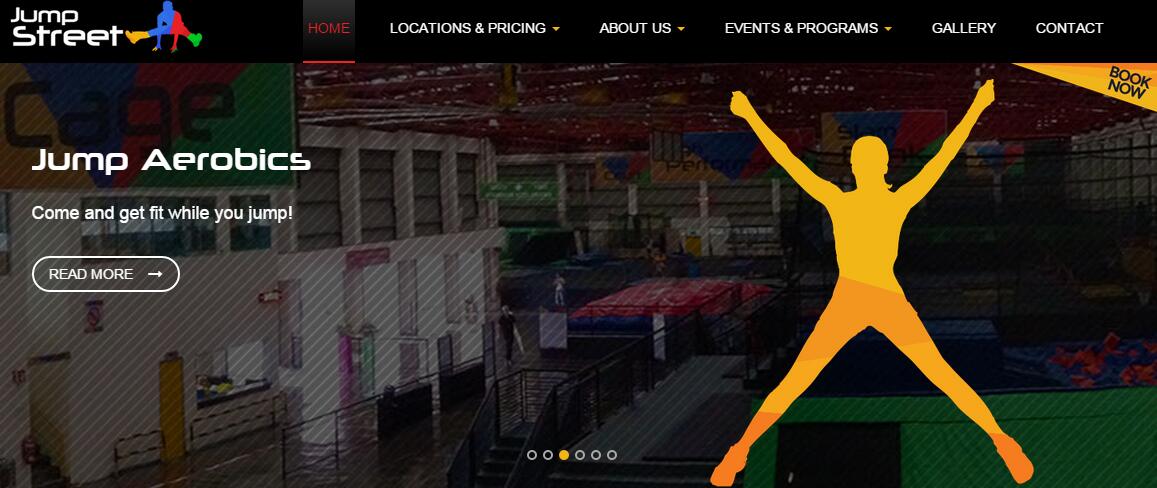 JumpStreet Trampoline Parks are an amazing urban playground for adults and children alike, with hundreds of interconnected trampolines from the floor right up the walls and multiple jumping attractions at every venue – It doesn't matter if you've never jumped on a trampoline before – you've got to try Asia Largest Trampoline Parks and experience the thrill of Defying Gravity.
Sector 6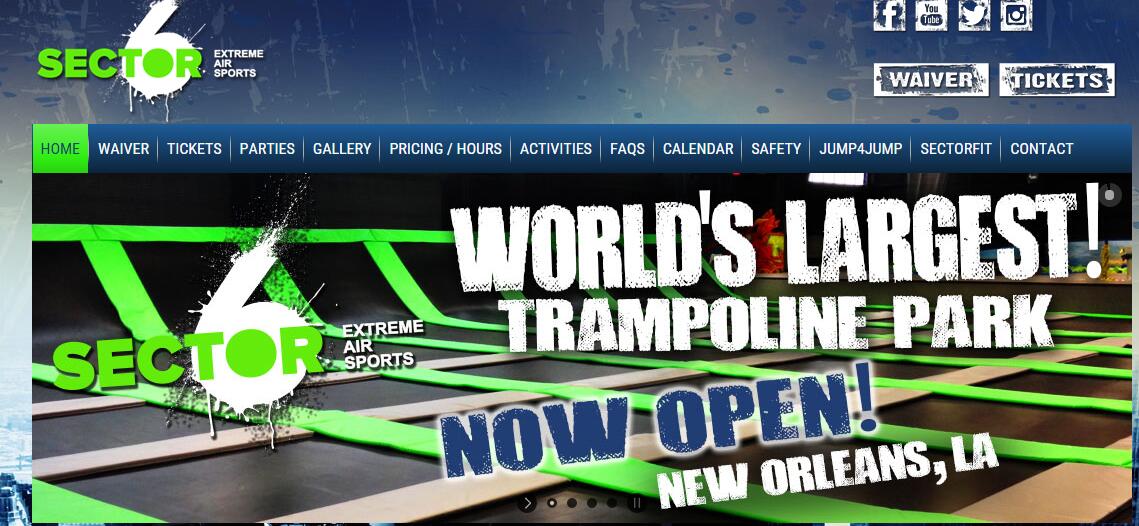 Sector6 employs the latest technology and safety engineering in an effort to make your jumping experience as safe as possible.
Mega Trampoline Park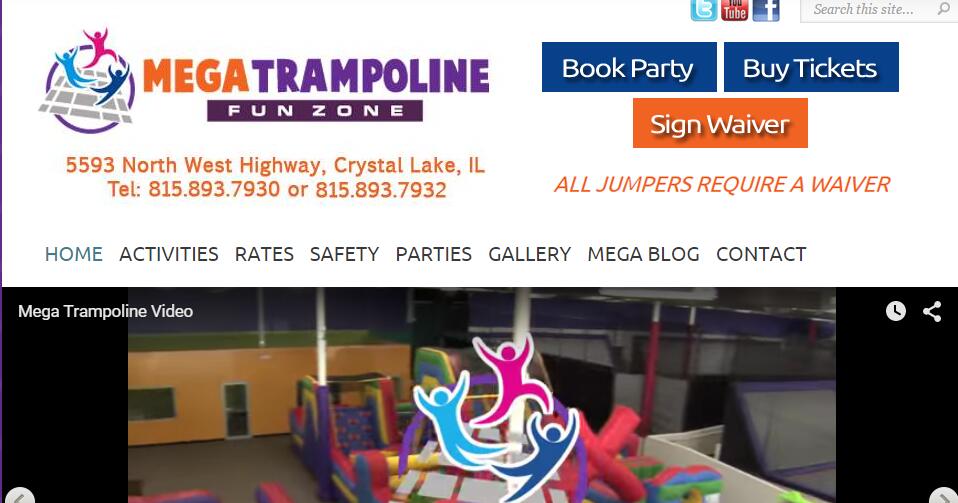 MegaTrampoline is Chicago's newest and most awesome indoor trampoline park with 35,000 square feet of floor space and more.
Velocity Indoor Trampoline Park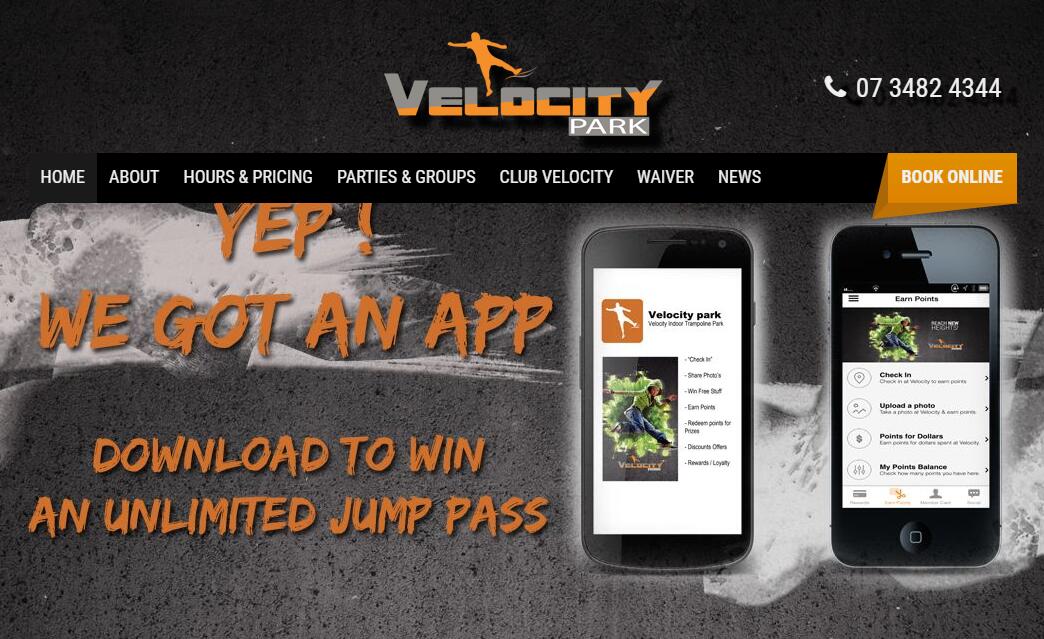 Velocity  is a mind blowing fun for all ages.Their indoor trampoline park contains over 1800 squre meters of jumping surface,including a foam pit with 3 lanes,2 dodgeball courts,3 basketball slam dunk lanes.
HiWire ICE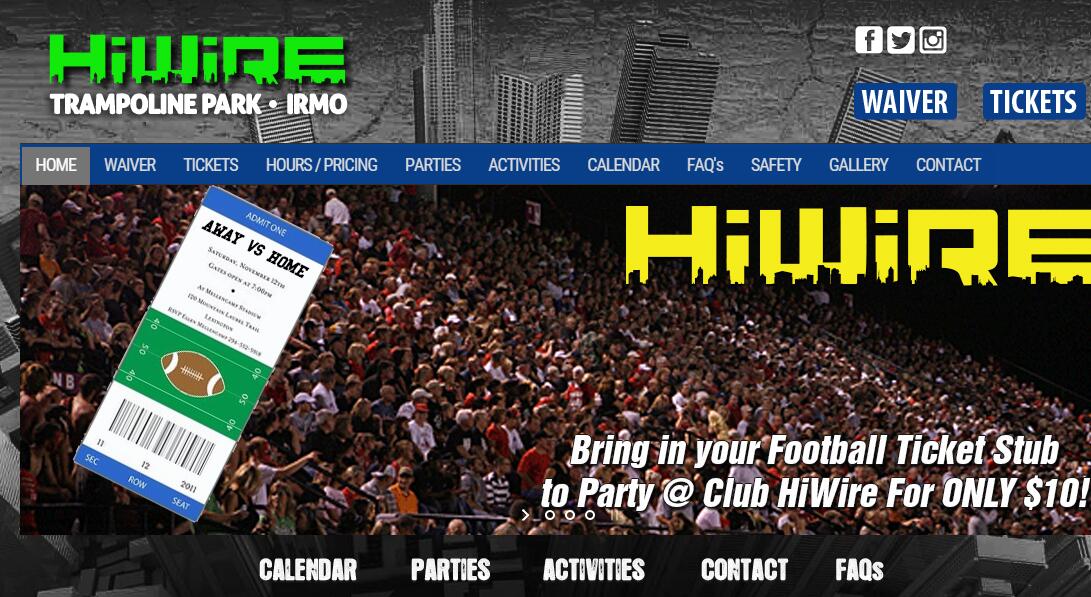 HiWire ICE-State of the Art Extreme Trampoline Park, 30,000sq.ft. Jumpin Field, Foam Pits, Ninja Obstacle Course, Dodgeball, Dunkable Basketball Hoops.
Jump Around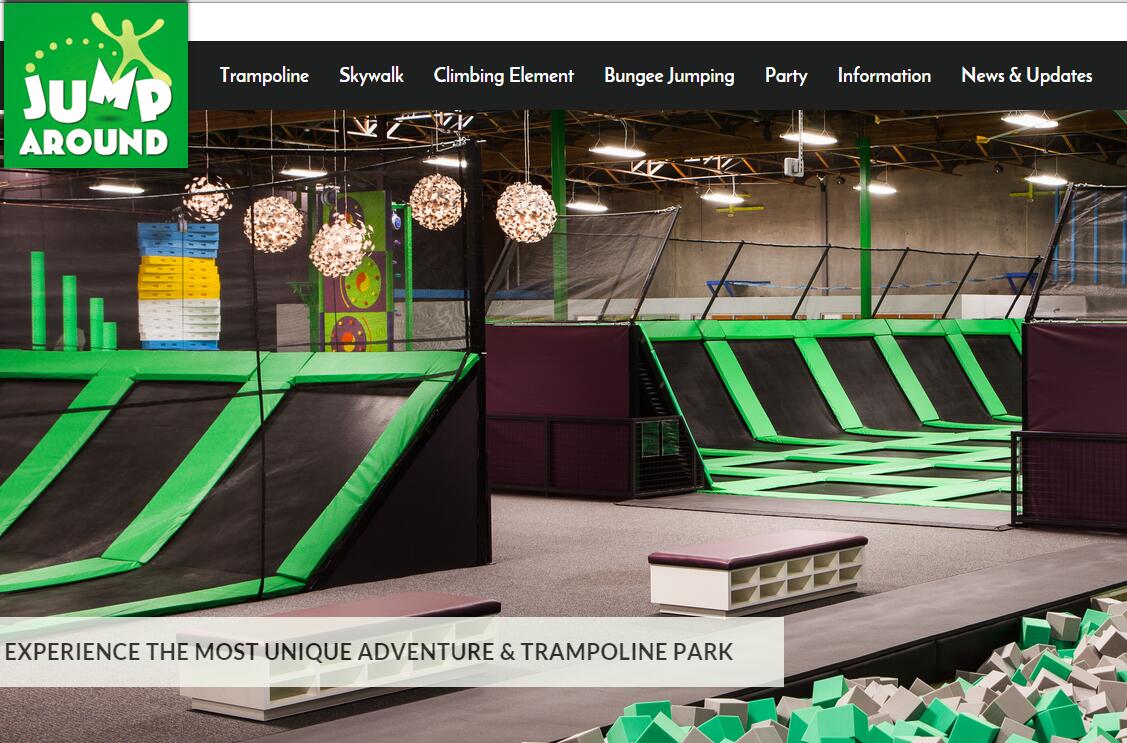 Jump around trampoline park is  a unique Indoor Adventure park concept, one of the largest in the United States, boasting over 35,000 sq ft of world-class challenging activities.
Super JumpXL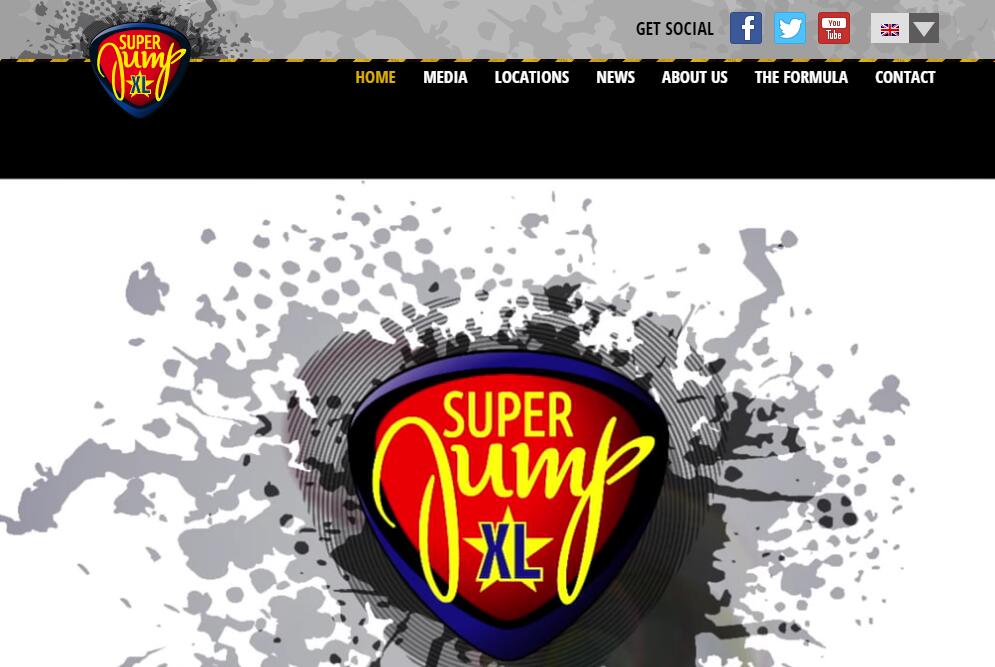 In 2014 the first SuperJumpXL trampoline centers open in the Netherlands, Germany and France. There is great interest in this new form of recreation and the SuperJumpXL label herein provides many additional experiences in the jump arenas.
Spring Loaded Trampoline Park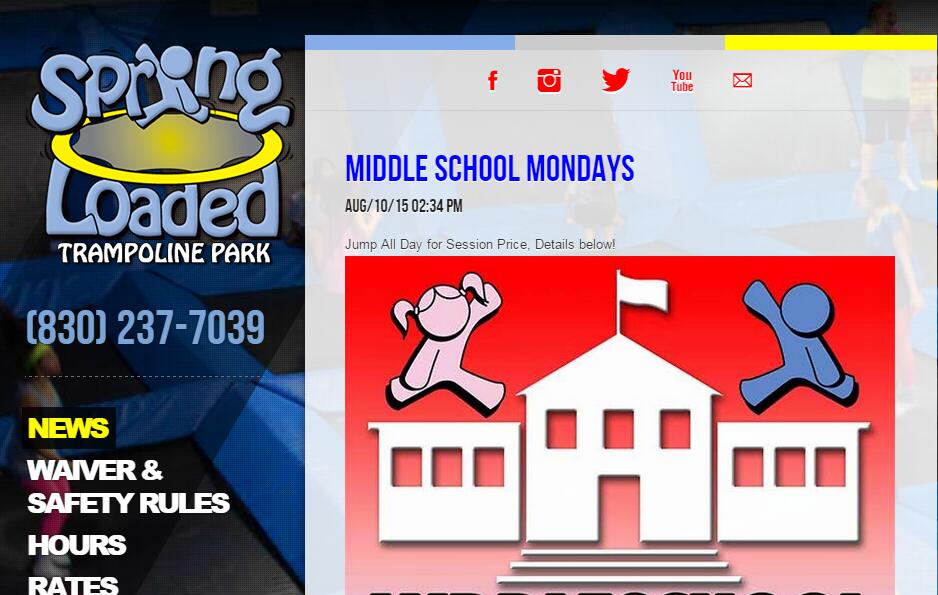 Spring Loaded 16,000′ indoor trampoline & gymnastics park located at Texas Ski Ranch in New Braunfels, TX.
Jump boxx Trampoline Park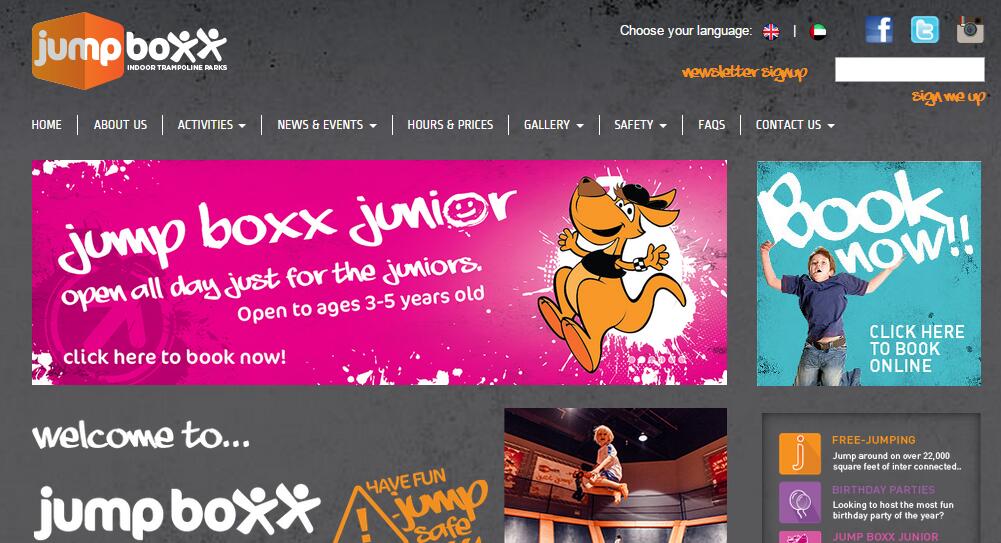 Jump boxx offers a unique design that includes dodgeball, slam dunk, a foam pit and much more and is guaranteed to bring you loads of fun whilst experiencing an extreme sport.
Congratulations to the winners!
Now you have a mind-blowing list of the trampoline parks. Make sure to check out if there are some near you.They will help you to be the super professional on trampoline jumping .
And yes, there are more than 50 great trampoline parks out there, but it would be impossible to list them all here. If for some reason you didn't see trampoline park (or some of your favorites) listed on this post, it doesn't mean I don't like it. It's just that we probably not hear them.
Instead of get angry,send me an email about your trampoline park details. If it has what it takes, I'll definitely mention it next time.